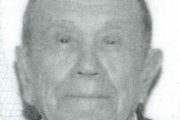 MASLOFF, John Edward
 
John Edward Masloff, passed away peacefully on Wednesday, September 19th, 2012 at the Cardston Hospital.                 
The Funeral Service will held in The Church of Jesus Christ of Latter-day Saints, Cardston Alberta Stake Center 338 5th Ave. East (East Hill), Cardston on Saturday, September 22nd, 2012 at 2 p.m. with Bishop Don Jensen officiating. 
Interment in the Beazer Cemetery, Beazer, Alberta.     
           
Email your condolences to: legacyfh@telus.net     
Arrangements entrusted to Ralph Salmon
Legacy FUNERAL HOMES LTD., CARDSTON, Alta.