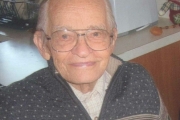 Martin Gelzinis
1923 – 2015
After struggling with health issues, in the early hours of June 10th, Martin Gelzinis passed away peacefully in the presence of caring third floor nurses at Kootenay Lake Hospital.
He was born in Lithuania in 1923 moving to Nelson in 1948. Martin quickly came to love this little city, his Kootenay Forest work place, the streets, parks, tennis courts and ski hills.  "I'll just go and say a few hellos", he'd say heading for all the grocery stores and of course the mall. A true people person!
Martin's greatest joy was his family and he treasured every aspect of togetherness.
A cherished husband to Beverly, father to David, Janette and Fraser, father in-law to Steve Grant and Kaori Nissato and Ula Mezynska.
Many, many quality times and photos will keep him in the memory of his young Penticton grandsons, Eli (13), Jaras (11), Taver (9) and little Viktor Sho Gelzinis (21 months) of Victoria.
No service is planned at this time but a memorial gathering will take place later in the year.
Thank you to all who played such a special role in Martin's life.
To quote his daughter in law "an amazing guy"
Online condolences may be expressed at www.thompsonfs.ca
Funeral arrangements under the direction of Thompson Funeral Service Ltd.