Marsh, Lorna Elaine
(December 7th, 2022)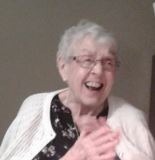 Lorna Elaine Marsh passed away peacefully in Nelson BC on Wednesday, December 7, 2022, 10 days short of her 95th birthday.
Lorna was born in Virden Manitoba, youngest child of John and Jesse Larmour.  At a young age, she moved to New Westminster, where she met the love of her life, Cliff Marsh. They were wed June 15, 1950.
Shortly after their marriage, they moved to Prince George to start a family. From Prince George, they moved to Vernon, and shortly after that into beautiful Shalalth, BC, where the family spent the next 8 years hiking, singing, and enjoying life, before moving to Nelson in 1975, where the family would eventually find a permanent home. Mom found work with the school district, where she became a very popular secretary at L.V. Rogers, with some of the students calling her Mom, including her two youngest sons.
Sadly, less than 5 years after arriving in Nelson, Cliff passed away suddenly, April 17, 1980, leaving Mom as the complete head of the household. A few years after Dad's passing, Mom retired from the school district, to devote herself to her family, friends, and her church, where she remained active until very late in life.
Cliff and Lorna enjoyed golf and curling, but once Dad passed away Mom got away from those activities. She still did some hiking around the area, and occasionally went back into Shalalth for some trips. She also played a lot of bridge with her friends and got a kick out of beating here kids at crib.
Of the many things we'll miss about our Mom, her sense of humour and her baking will be missed the most, especially her cinnamon buns and home-made bread. Often, the only way for us to get her cinnamon buns was to buy them from the church bake sale.
Mom is survived by her children, Bruce (Maggie), Joanne (Dan) Pipe, Bob (Leanne), and Barry (Lori), 10 grand children, and several great grand children. She is predeceased by her husband Cliff, her parents and 16 siblings.
A service will be held at the Nelson United Church Saturday Jan 14 at 10:00. In lieu of flowers, please make a donation to the Nelson United Church.