Marian Irene Hale (Learmonth)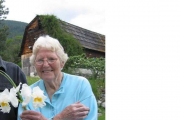 Marian Hale passed away peacefully December 19th, 2011 at Mountain Lakes at the age of 80. She was born on March 14th, 1931 in Willow Point, North of Nelson in her family home, to parents Alice and John Learmonth. She was predeceased by her first husband David Hale, and brother Herbert Learmonth. She is survived by her husband Dick Doorschot, son Dan (Lynn) Hale, daughter Sharon (Bud) Edgar, daughter Colleen (Dick) DeJong, grandchildren Ryan and Ashlie DeJong, Leah (Reuben) Chenenkow, Tyler Hale, great granddaughter Kayln Chernenkow, and sister Marge Carlson.
Marian worked at the Greyhound bus depot in the 50's, where she met David Hale. They married in 1957, raised a family and built a home in Six Mile. From cows to horses, chickens to dogs, animals were a huge part of their life. She worked for a few years at Willow Haven in the 70's and then took up odd jobs around her home.
Grandma could always be found sitting in her favourite chair knitting a sweater for the kids. She was always busy, mowing lawns with grandkids in tow, building elaborate rock walls, growing veggies in her garden, hosting frequent weenie roasts, gambling in Reno Nevada, and later tending to orchids.
In 1994, Marian married Dick Doorschot, their mutual love for orchids stemmed their relationship. They honeymooned in Holland, Dick's home land. It was the first flight of her life. They later built two large orchid greenhouses at their home.
When her health declined, Marian moved into Mountain Lakes and Dick was by her side every day for the next four years. Marian's room was always adorned with orchids. On their anniversary, Dick would bring the original orchid plant which flowered her wedding bouquet.
The family would like to thank all of the staff at Mountain Lakes Seniors Community Complex for all of their support and care over the years.
Everyone is welcome to an open house on Thursday, December 29th, 2011 from 1:00pm to 3:00pm at 2848 Barnes Road, Six Mile.
In lieu of flowers, donations in Marians name may be made to the Parkinson's Society (infodonation@parkinson.bc.ca) or Canadian Red Cross (www.redcross.ca).
Funeral arrangements are under the direction of Thompson Funeral Service Ltd.
Online condolences may be expressed at www.thompsonfs.ca