MacNab, Grace Lowe
(November 17th, 2021)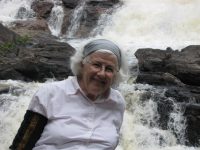 Grace Lowe MacNab died in Kaslo, BC on November 17, 2021, aged  92, of, essentially, old age.   She was the mother of four children: Steven (who died in 2008), Ian, David (Daav) and Heather; three grandsons and four great grandchildren. All her children, grandchildren, and great grandchildren live in British Columbia.  She shared the last forty years of her life with Peter Grant, her beloved BFF, in Ottawa, Ontario.
Grace was born in 1928, in Illinois, third and last child of Wayne and Leonora Lowe.  She attended schools in Ohio, New York, and Illinois.  She got a BA from the University of Chicago and was married, briefly, to Ray Nasemann, before returning to her parent's home with her infant son Steven.
'Grace Lowe' was a familiar by-line in The Ogdensburg Journal during the 1950's.  She covered many beats but was best known for her features on education (including a series on every school in St Lawrence County) and on the building of the St. Lawrence Seaway.  She also worked stints on the Plattsburgh Press Republican ('cow' editor, if you can believe it!) and the Potsdam Courier.
She left journalism for homemaking after she married John MacNab, a Canadian teaching at St. Lawrence University.  After living for several years in a converted schoolhouse in upper New York state, and bearing two sons (David being born in the car on the way to the hospital), the family moved to Ottawa.  Heather was born there the following year.  Grace loved Canada and became a Canadian citizen as soon as possible.  (She had for many years felt alienated from the arrogant nationalism of the United States.)  Her loyalty to Queen and country has been ardent ever since.
In the 1960's Grace began taking night courses at Carleton University earning an MA in Sociology.  She and John taught for one year at Algoma College in Sault Ste. Marie.  Although both returned to Ottawa, they divorced soon after.  Grace went on to earn her PhD and taught at Carleton while she did so.  She then worked at the Ottawa Board of Education Research Centre looking at the financial and organizational implications of the growing French programs at both Ottawa and Carleton Boards (they were not then joined).   As the French Project wound down, Grace became a free-lance contractor, ending with work auditing government evaluations for the Auditor General's office.
When her children were working or attending schools in British Columbia and the Yukon, Grace took up canoeing where she met Peter Grant.  They paddled many rivers — the Dumoine more times than she could remember, the Coppermine, the Yukon, French, Spanish, Missinaibi, and, every spring, the Mississippi (in Lanark County) and the mighty Castor.  They paddled to the Bustards in Georgian Bay and did the French with two of their grandsons.   They saw caribou and a grizzly along Point Lake, caught fish in the Yukon and Northwest Territory, and Grace photographed hundreds of wildflowers, including many wild orchids.
When Grace retired, she took up quilting and joined the Ottawa Valley Quilters Guild.  She was especially proud of the work she did making touch quilts for people with Alzheimer's disease — she lost count of how many.  She promoted the making of these little tactile quilts and gave workshops.
She maintained good health, but various minor ailments sapped her resiliency after a bout of pneumonia in 2016.  However, she continued to enjoy crossword puzzles (especially Fraser Simpson's cryptic) and Sudoku.  She walked, made touch quilts and did household tasks.
After suffering a minor stroke in September 2021, Grace's final adventure was her plan to settle in British Columbia near her daughter, Heather, and son, Daav.  Sadly, she quickly declined before being able to set up a home. She was surrounded by the love of her three living children in her final days and hours.
The family wish to express their gratitude for the support Grace and family received: in Ottawa from her doctor, the Ottawa Hospital staff, Care for nurses, Bayshore personal support workers, and Champlain occupational therapist; and in Kaslo from the staff at the Kaslo Primary Health Centre, the Victorian Long-Term Care, and the Kaslo ambulance attendants.
In lieu of flowers, Grace requested a donation be made to Doctors Without Borders (https://www.doctorswithoutborders.ca/ or https://www.msf.org/ internationally).  A small family service will be held in 2022 to scatter her ashes in a beautiful location as per Grace's wishes. Arrangements are being made by Thompson Funeral Home in Nelson, BC.