MacCabe, Gay Anne May
(March 29th, 2021)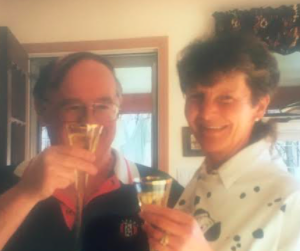 It is with heavy hearts that we announce the passing of our mother Gay Anne May MacCabe on April 1st, 2020 after a long and courageous battle with Alzheimer's at the young age of 77 only 7 months after her husband Bruce passed away.
Gay was an incredible loving mother, wife and friend and just a downright beautiful soul of a person. She made many friends through different social gatherings including her long walks she would take throughout Nelson. I went on many walks with her and each time we would always run into someone she wanted to say hi to and catch up from the last time they spoke. I could always tell she was well liked and the interactions with her friends came from a place of authenticity and a genuine concern for others. I am sure that we all have memories of my mother that will fill each of you with a smile and a grin as she had a way to make each and every person she interacted with feel special. From parties at the cabin at Christina Lake to after parties at our house after a bonspiel, there was never a shortage of fun times and lots of laughter.
Gay was born in Fernie on February 27th, 1943 to Michael and Anne Drevenak. She lived in Fernie until her graduation and then moved to Trail to further her education which led to a job at an accounting firm where she met and later married our father Bruce MacCabe. They were married in 1963 and moved to Nelson in 1969 where they would lay their roots and raise their 2 boys (Rick and Rod).  Gay was mostly a stay at home mom however did get a part time job at Overwaitea where she was able to demo products but we all know it was to satisfy her love of talking to people.
Her preference was to be outside whether it was in the garden, taking the dog for long walks around the city, skiing with friends or doing an annual swim across the lake at our cabin.  A full day could easily be lost in the garden and she was always eager to take us on a walk with a glass of wine in hand to see that day's progress. She was a very avid cross country skier and she would glow from describing her day in nature but the cabin at Christina Lake was truly her second home and absolutely loved it there as we all did.
There are so many memories I could share about this amazing woman and the unconditional love that she conveyed and taught us all.  I hope all of you can raise a glass and toast my mother as she now is free at last from the suffering she endured for so many years from this awful disease. A special thank you is definitely warranted to many friends and family that visited her throughout her battle including the Clan from Fernie who made the trip over to Nelson multiple times to show love and support and of course to all of the staff at Mountain Lakes that comforted our mother for many years. We are without words to describe what an absolute courageous job you all do and especially now at such a difficult time. Thank you from Rick and Rod.
Till we see you again Mom, love you from both of us.