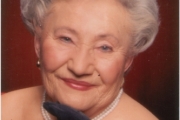 Luise Ondracka
July 10, 1921 – October 31, 2014
Luise passed away on October 31, 2014 at the Kootenay Lake Hospital in Nelson, BC.  Luise was born on July 10th, 1921 in Czech and raised by parents Anna Bartosch and Stefan Jurisch.  She was the former owner of the Tillicum Inn Resturant in Balfour. At 93 years of age she was still a computer buff, searching the web. Some of her other hobbies included painting, canning and wine making in her earlier years. Throughout her life she remained an avid gardener.
Luise is survived by her son John (Janice) of Seattle, WA, three grandchildren, David Ewing, Shawna Ewing Barry and Curtis Ewing as well as five great grandchildren. She is also survived by her sister Sylvia Barry of Nelson, Otti Jurisch, Alfie Pittzman of Germany, niece Yvonne Jonge Jan-Ahmad of Vancouver as well as many nieces and nephews in Canada and Germany.
  She is predeceased by Stefan Jurisch of Germany and Jean Jonge Jan of Nelson.
Interment has taken place at the Nelson Memorial Park Cemetery under the direction of Thompson Funeral Service Ltd. 
Online condolences may be expressed at www.thompsonfs.ca