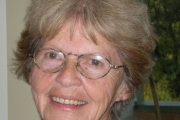 Loreen Sand
May 2nd, 1935-May 19th, 2012
"Lori… saver of birds, dogs, cats and rats.
Feeder of sugar water to weakened bumblebees, so that they may take flight and continue on their journey."
L. Sand
Loreen (Lori) Elizabeth Sand was the eldest of eight children born to Joseph and Maria Tockor in Esterhazy Saskatchewan. (siblings: Marion- deceased, Stan, Don-deceased, Shirley, Wayne-deceased, Ken, Marcia) She married Wilfred Elroy Sand on June 14th, 1952 and eventually settled in Alberta. Lori is survived by Wilfred, and by their four children: Garnett, Sharrie, Cyndi (Todd), and Jackie (Bob). She is also survived by ten grandchildren: Jessica (Cody), Niki (Dereck), Linzey, Tara, Kyle, Mallory, Adam, Adele, Kohe and Mclain; and by eight great grandchildren: Ashley, Braydon, Cameron, Paris, Paige, Emmersyn Lou, Oakley, and Malee.
Our mom/ Nana had a tremendous amount of energy which she funneled into activities such as: canning a year's worth of fruit for a family of six, running the kid's club, throwing birthday parties, and making a home. She kept our dad hopping for well over fifty years. She could be found renovating a house, building a greenhouse, landscaping and fencing a yard. To say her thumb was green is a huge understatement!
She was willing to pack up a motor home and take road trips with grandchildren. She strived to create individual and memorable trips for each of them. She sewed bridal gowns, grad dresses, beautiful children's clothes, and even cloth diapers by the hundreds. She decorated wedding cakes, started a business, ran a business, started another, and another, and maybe even another. What she lacked in business savvy she made up for with entrepreneurial spirit. She was famous for her garage sales!
She was a dreamer. She loved to sing. She loved to dance. She loved to create beautiful places. She took deep pride in her kids, grandkids and great grandchildren. She loved animals, and in particular Muffin, Shadow and Patches. For years she hosted a family of swallows just above her front door.
She was a very spirited, strong willed, opinionated, and independent kind of person. She never gave up on getting her way, and she drew on that strength to get through and to face the tremendous challenges of her illness combined with the enormous mountain she climbed after her car accident in November of 2010.
We are deeply grateful for the exceptional care provided to her by Dr. Lisa Vasil and Dr. P. Malpass, the IHA staff, the staff at We Care and Neighborhood Nursing, Stacy McCarty, and BC Ambulance Paramedics.
In lieu of flowers you may make a donation in her name to your local SPCA Nelson Branch, PO Box, Nelson, BC V1L 5P7, if you wish. Or perhaps next winter you might set up a bird feeder, and then promise to keep it full.
A memorial will take place at a later date.
Online condolences may be expressed at www.thompsonfs.ca.
Funeral arrangements are under the direction of Thompson Funeral Services Ltd.