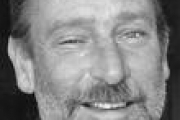 On April 7th, 1960 the Kootenay's most awesome plumber arrived kicking and screaming, but not too loud, Dave truly was a quiet soul.
Dave Lock was born in Winnipeg but it wasn't long before his family relocated to Calgary and eventually Procter. He ultimately made his home for life in Nelson.
Dave's love of gadgetry, Friday night beers and loud music is legendary, but not eclipsed by his love for his wife, children, family and many close friends. Dave passed away suddenly on June 9, 2016, there will be Celebration of his Life at Eagles Hall, 641 Baker, Nelson from 1:00-3:00pm on June18, 2016.
Please do not wear black, keep the tears to a minimum and join us to honour our beloved Dave as he makes his way to the giant brewery in the sky.