Laird, Shirley
(February 1st, 2023)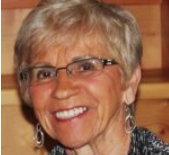 On January 19th, 2023, Shirley Laird of Nelson, BC passed away peacefully in her sleep at the age of 88.  She was predeceased by her husband Roy Laird.  She was the loving mother of Rick Laird (Donna), Bonnie Johnson (Bruce) and Vicky West (Brian Morton).  She was much loved by her grandchildren; Tammy West, Terri West, Erika Hamilton, Karin King, Randy Laird, Shayna Laird and great grandchildren; Davin, Carter, Hannah, Danika, Knight, Ruby, Rowen and Jake.  She will be greatly missed by her partner and special friend Lloyd Lancaster of Spokane, WA.  She is also survived by her twin sisters; Carol Kussat and Alma Johnson.  
Shirley was born in Calgary, AB, to Carl and Helen Brunner in 1934.  She grew up on a farm riding her little horse to school.  She attended the Canadian Nazarene College for grade 9 – 12 then onto Mount Royal College to complete a petroleum secretarial course.  She married Roy Laird whom she had met at CNC on Sept 4th, 1954.  Three children followed, Vicky, Bonnie and Rick.  Roy was a Calgary City Policeman and Shirley worked for several companies doing secretarial and accounting work.  They lived in Calgary until 1970 when they relocated the family to Kaslo, BC.  In 1979 they moved back to Alberta to St. Albert.  They retired in Balfour, BC and spent winters in Yuma, AZ.  Roy passed away in Feb 2011.  She then met her very special friend Lloyd Lancaster in Yuma, AZ (from Spokane, WA).  They remained very close until her sudden death on Jan 19, 2023. 
She loved life, her family and friends and the golf course, and it is with great sadness that we have lost her so suddenly.  She is forever with the Lord.  There will be a celebration of life this summer.  In lieu of flowers please donate to the Heart and Stroke Foundation.