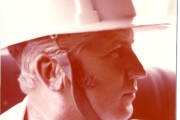 Karl Wintersberger
December 28, 1927 – May 20, 2013
Karl Wintersberger, of Balfour, BC died Monday, May 20th, 2013, at age 85,  in Mountain Lake Seniors Community, Nelson, BC.
Born in Schwarzenberg, Austria, December 28, 1927 Karl emigrated from Austria to Canada after the 2nd World War, arriving in Newfoundland.  He worked his way across Canada in logging and mining camps ending up in British Columbia where he spent most of his working years as a miner.  He worked the Bluebell Mine in Kootenay Bay until it closed in 1972, then spent some time working in the Sullivan Mine at Kimberly, BC from which he retired in 1983.
Karl loved Canada and was in love with life and all people.  He trusted and was a friend to everyone.  You could always find Karl with a smile on face, a laugh in his belly, and ready to hoist a beer in celebration.
Karl enjoyed spending time in his boat touring Kootenay Lake, pruning his roses, and taking his daily walks, later along with his dog Babs, then stopping by the local coffee shop for breakfast and chat with the neighbors, and later in the day enjoying a pint with friends at the local pub.
Karl is survived by two brothers, Ludwig and Ernst, both of Austria, and two sisters, Anna of Switzerland, and Hildegard of Austria.
Karl will be greatly missed and fondly remembered by all who were blessed to know him.  We love you Karl!
Online condolences may be expressed at www.thompsonfs.ca
Funeral arrangements are under the direction of Thompson Funeral Service Ltd.