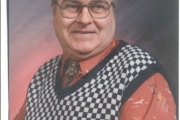 Joseph John Plasko 1928 -2012
Joseph Plasko passed away with his family by his side at Kootenay Lake Hospital, June 6, 2012
He is survived by his loving wife Lillian, his daughter Rita Shannon (Jim) of Abbotsford and son Neil (Michelle) of Kelowna. As well as his granddaughter Sherry Postnikoff of Maple Ridge and grandson Steven Joseph Plasko of Kelowna and Great Granddaughter Kahli Postnikoff of Maple Ridge. He was predeceased by his son Lonnie in 2007
Joe was born October 11, 1928 in Bremen Saskatchewan. He was the youngest of 6 children of John and Katalin Plasko. He was predeceased by his 3 brothers, Michael, Adam and John as well as his 2 sisters Mary and Annie.
Joe had to end his formal education at the age of 12 as he was a big strong boy, and they needed his help on the family farm.
In 1949 he married Lillian Blaseg, who lived ¾ of a mile away and he then took over a section of his parents farm.
In 1959 they took a trip to Vancouver Island to visit family. Their route took them through the Kootenay's and Joe fell in love with the Nelson area.
When a business opportunity presented itself in 1962, they packed up their 3 children, moved west and purchased the Blewett Store. Their store and house became a focal point for many of the neighbourhood children
Within the year he also took on the Rural Route mail contracts of RR#2 and RR#3. He really enjoyed travelling the scenic roads and interacting with the many friends he made along the routes.
In 1975 they sold the store and Joe built his dream house on 5 acres below the store. He retired from the mail routes in 1989 and enjoyed his days tinkering around the property clearing brush and chopping wood. He created many miles of beautifully stacked woodpiles throughout the acreage.
In 2002 they sold the property and moved into Nelson.As his mobility decreased he grew to love sitting looking out his big picture window at the view of Nelson and Elephant Mountain. He called it his "big Screen TV"
Lillian has lost her "Bub" of 63 years and his grandchildren and extended family are mourning their "Papa Joe" His greatest joy in life was spending time with his family and he took such pride in all of them..
Joe was always fascinated with planes and took advantage of every opportunity to take a ride with local pilots. Once he moved into town he really enjoyed watching the planes flying in and out of Nelson Airport
Joe will be remembered as a gentle and generous man. He was always there to lend a hand when anyone needed help. Although Joe was large in stature he was a very quiet and modest man and never liked to be the centre of attention, so in accordance with his wishes there will be nomemorial service. In memorium donations can be sent to the Heart and Stroke Foundation of BC & Yukon
Thank you to Dr. Lee, Dr. Murray, Rivka and all the home care workers who took such good care of Joe for the last 2 years.
He is now pain free and at peace after suffering for the last few years with heart disease.  God Bless
Funeral arrangements are under the direction of Thompson Funeral Service Ltd.
On-line condolence may be expressed at www.thompsonfs.ca