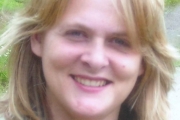 Jennifer Dawn Funk (nee Kurinka)
October 22, 1972 ~ May 10, 2013
Jennifer Dawn Funk (nee Kurinka), a resident of Meadow Creek, BC passed away on May 10, 2013 at the Kaslo Hospital with family by her side, after a courageous battle with cancer at the age of 40 years.
Jennifer was born October 22, 1972 at Creston, BC and received her formal education in Creston. She was married to Todd Funk on November 30, 2001 at a beachside wedding in Kaslo, BC
Her family was her number one priority – always putting their needs first! She also loved the outdoors:
fishing, quading etc. Jennifer was predeceased by her great-grandparents, grandparents and her uncle Alan.
She will be lovingly remembered by her husband Todd; sons Donavon, Devin and Dayton; mother Judy; sister Twila and family; grandma Charman , Kurinka family, Funk family, along with numerous aunts, uncles and cousins.
A Celebration of Life Service will be held on Friday May 31, 2013 at 1:00 p.m. at United Church in Kaslo, BC with Pastor Len Trenholm officiating.
Any friends wishing to make a memorial contribution may do so to the charity of the donor's choice.
Online condolences may be expressed at www.thompsonfs.ca
Funeral Arrangements are under the direction of Thompson Funeral Service Ltd.