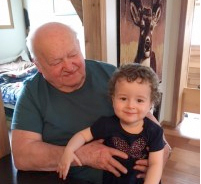 Jaros, Bedrich "Fred"
It is with heavy hearts that we announce the passing of Bedrich (Fred) Jaros on Wednesday, May 24th, 2017 at Trail Regional Hospital at the age of 81 years.
Fred was born Bedrich Jaros on July 21st, 1935 in Zlin, Czechoslovakia to parents Bedrich and Frantiska (Vrbacka) Jaros. His brother Vlastik completed the family of four.
Fred was a pillar of strength and goodness in his family and will be greatly missed.
Left behind to mourn his passing is his beloved wife Jarmilla (Mila) Jaros, daughter Sarka (Joe) Bader their children Taylor and Shiloh, son Tom (Erin Huber) Jaros, grandchildren Marek Jaros, Radek Jaros, Mila Jaros, brother Vlastik (Marie) Jaros, sisters-in-law Hana Mlcakova (Milan) and Jitka Stuchlikova as well as extended family members who remain in Czechoslovakia.
Fred will also be missed by his treasured friends.
The family would like to thank all those who have touched and enhanced both Fred and Mila's lives with their presence. Most importantly they wish to thank the great country of Canada and all of the people that welcomed them and gave them a true feeling of home.
Fred's life can be summed up in three words: Family, Success and Hard Work.
The Jaros family hopes that in the coming days, months and years that you remember Fred's story of how he came to Canada, worked hard with pride to become a successful business man and always encouraged and loved his family.
A private service was held on Thursday, June 1st, 2017 at 10:00 am.
Cremation has taken place.