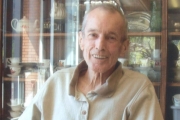 Ian Crofton died quietly at Jubilee Manor on June 28th, 2012 in his 67thyear with family by his side. Loving father of Andrew and Julia he is also leaving behind three brothers, two sisters and many, many friends. There will be a gathering of friends and family at the Nelson Rod and Gun Club located at 801 Railway Street from 1:00 PM – 5:00 PM on Sunday, July 8th, 2012 to celebrate Ian's life. All are welcome. In lieu of flowers a donation may be made in Ian's name to the Kootenay Co-op Radio 308a Hall St
Nelson, British Columbia V1L 1Y8.
Funeral arrangements are under the direction of Thompson Funeral Service Ltd.
Online condolences may be expressed at www.thompsonfs.ca