Hudec (Graham), Bobbette – Joy
(July 27th, 2021)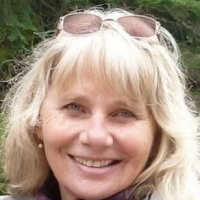 In Loving Memory of Bobbette – Joy Hudec (Graham)
Bobbi was diagnosed with pancreatic cancer on April 15, 2021, Bobbi put up a strong hard fight against the cancer but sadly passed away peacefully at home, surrounded by her loving family on July 9, 2021.
Bobbi was born in Winnipeg on August 1, 1951 to Jack and Amy Graham. Bobbi's dad was in the Navy, they moved many times all over Canada. Bobbi was the second eldest of 6 children, and she enjoyed caring and nurturing her siblings.
At the age of 16 Bobbi met her first husband in Victoria and she gave birth to her daughter Vicki-Joy in Edmonton 1971.
Bobbi relocated to Nelson with her 2-year-old daughter so they could be closer to Bobbi's family where she worked as a caregiver and created a new life for Vicki and herself.
One wild night out with her sisters at the Golden Drift, Bobbi met her soul mate Jim Hudec and they quickly fell in love.
Bobbi and Vicki brought a shining light to the Hudec family and Jim and Bobbi soon welcomed their first son Curtis in 1980. Jim and Bobbi then moved to Salmo, married and purchased the "Home of Her Dreams" where they welcomed their second son Robert born 1983. Their house was always filled with neighbourhood children, nieces, and nephews as Bobbi loved being surrounded by children's laughter.
Her love for children led her to a 23-year career working at the Salmo Elementary School and was well respected for her dedication to the children as an education assistant.
Bobbi loved photography, shopping for heart felt gifts, camping, cross-country skiing, biking, kayaking and hiking the local trails with family and friends.
Throughout her lifetime Bobbi and her camera captured countless sweet memories with photos and slideshows that have touched so many lives.
Bobbi was predeceased by her father Jack Graham, sister Jackie Boogemans, nephew Steven Hodgins and her brother-in-laws Julien Boogemans and John Hudec.
She is dearly missed by her mother Amy, husband Jim, children Vicki (Jody), Curtis (Wynn), Robert (Casey) and her grandchildren Kyle, Colton, Joscelyn (Erik), Emerson and Linden, along with an amazing, loving extended family.
Bobbi was able to see the good in everyone and will always be remembered for her endless kindness, open heart and irreplaceable treasures that will keep her memory alive forever.
Bobbi was a loving soul to everyone around her and will be greatly missed by all.
At this time the Celebration of Bobbi's life has not been decided. Donations in Bobbi's memory can be made to Salmo Valley Trails Society. PO Box 1125, Salmo B.C, V0G – 1Z0.
The most beautiful things cannot be seen or even touched – they must be felt in the heart.
We Love You to The Moon and Back.