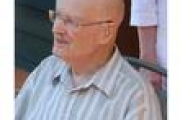 William Henthorne was born at his grandmothers, on May 22, 1922 — his fathers 22nd birthday — in St. Helens Lancashire.
He lived there until he joined the Royal Air Force in 1939, where he was trained as an engine fitter. In 1941, he was posted to Canada as part of the Commonwealth Air Training Program, and met Phyllis Bowen. They were married in Calgary on September 2, 1942, and remained devoted to each other until his death.
He was posted back to England, and served in England, Italy, Cyprus, Palestine, Greece, Egypt, and finally in Germany, before leaving the RAF and moving to Canada in 1952.
William worked for Canadian Pacific Airways in Vancouver from 1953 until 1956, when he started teacher training, which he practiced with skill and devotion until his retirement in 1983.
He leaves behind his beloved wife of 68 years, Phyllis, children Roger, Colin and Timothy, daughters-in law, Marg, Lorna and Jean, and grandchildren Erin, Ben, Katie, Aleta and Elsa.