Halsey, Shirley Anne
(September 30th, 2023)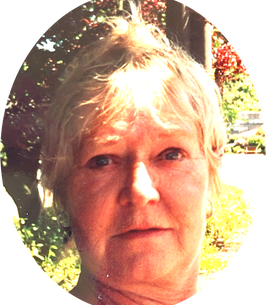 Shirley Anne Halsey, of Nelson, BC, passed away on September 30, 2023 at Kootenay Lake Hospital with her son Brad, and friends Kendall McPherson and Vivi Lindsay by her side.
Mom was born in Cranbrook, BC, the second child of Anne and Frederick, and younger sister to brother Don.  Mom, her brother and mother moved to Creston around 1948, where her mother met Ed Brady, and married in 1951.  They moved to Nelson in the fall of 1954, where Mom would call home for the remainder of her life.  After graduating from LVR in 1960, Mom moved abroad for two years and travelled in Europe from 1963 to 1965, and then again in 1967.  In 1969, Mom met her future husband and life partner Ken Halsey, who she married during a skiing trip in Idaho in January 1970.  Two children soon followed, daughter Terri-Lee in 1970 and son Brad in 1972.  They settled into their home in Rosemont, in Nelson, in September 1972, where they would call home for the rest of their lives.
Mom always had an adventurous spirit, and she and Dad loved to travel when they could, whether it was to the coast or Vancouver Island, to the Oregon Coast, or on numerous camping holidays in their 5th wheel following Dad's retirement.  Her stories reflected hilarious situations, beautiful places and fabulous people, both abroad, and in her own backyard.  She loved to be around people, and never wanted to be alone; she was with people she loved right to her last breath.
Mom was predeceased by her mother Anne in 1976, daughter Terri-Lee in 1979, father Ed Brady in 2000 and husband Ken in 2019.  She is survived by her son Brad of Nelson, brother Don (Karen) of Cranbrook, brother-in-law Gordon of Victoria and sister-in-law Hazel of Nelson, and numerous nieces and nephews, as well as good friends in Nelson and abroad.
She will be deeply missed by all that knew and loved her, and life without her will simply not be the same.  The deep sense of grief that all feel at her passing is a small price to pay for the love that she gave to those around her.
Mom – you were my world, and I did my best to take care of you in your final years of life, despite your ailments and difficulties we both faced, we did what we could to make your life a little bit better where we could.  In the end, you were ready to join your parents, Dad and Terri in heaven, and words cannot express how grateful I was to have you here in my life.  You will always be in my heart, and my mind, and someday again, we will all be together as a family.
A celebration of life will be held in Spring 2024, a time of re-birth and renewal, with a date and place to be determined at a later time.  Donations in lieu of flowers can be made to the BC Lung Foundation.