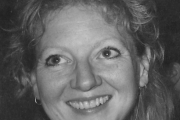 Kalyniuk
Gwen Elizabeth Kalyniuk (nee Brown) of Nelson, British Columbia passed away suddenly on March 15, 2012
Gwen was born on Chatham, Ontario on May 10, 1955 and was raised on the family farm in Tilbury East Township and later Ridgetown, ON. She graduated from Ridgetown District High School and went on to receive her Degree in Nursing from McMaster University in Hamilton.
After graduation, Gwen moved to Nelson, British Columbia with her dear friends where she pursued her career for over 30 years in obstetrics nursing and the field of neo- and post – natal care. Her greatest accomplishment was raising two wonderful children, Troy and Julia with whom she shared a close relationship.
For the past several years Gwen devoted her time to the Kootenay Animal Assistance Program Society (KAAP), volunteering her time and her home fostering cats and making her famous felted catnip mice to raise money for the shelter. Gwen has always been active in her community whether it was her concerns about health care, trying to have a positive impact on lives of new mom's and babies or looking out for the less fortunate animals of her community. Her contributions will be greatly missed.
Gwen is survived by her son, Troy Kalynuik; her daughter Julia Kalyniuk; and her former spouse Ken Kalyniuk; all of Nelson, BC. She was predeceased by her father Martin Brown (2006) and is survived by family in Ontario; mother Jewel (Pegg) Brown of Ridgetown.  Brothers David of Thunder Bay, ON, (Marcia) and James of Waterloo, ON, (Shannon). Sisters Margie Lawrence of Chatham, ON (Steve) and Rosemary Doupe of North Bay, ON (Jason). She is survived by several nieces and nephews Victoria Brown, Dan Brown (Alyssa), Benjamin and Isaac Brown, Emma, Bradley and Mark Lamoure.
Funeral services will be held on Saturday, March 24, 2012 at 11:00 AM from the Chapel of Thompson Funeral Service Ltd. with Jim Brown officiating. An additional memorial service will be held at a later date in Ontario. Donations can be made to Kootenay Animal Assistance Program Society in Gwen's name.
On line condolences may be expressed at www.thompsonfs.ca
Funeral Arrangements are under the direction of Thompson Funeral Service Ltd.