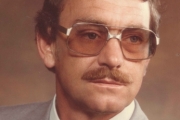 Losing an eye would normally diminish a person's sight, but in the case of George Bond, at the age of only five, it sharpened his vision of life.
Born in Nelson in 1932, George proceeded to dedicate himself in family, friends, hobbies and public service for seventy-nine years. George died Sunday, January 8, 2012.
The son of Leslie Bond, an immigrant from Cornwall, and Alice (Green) Bond, from a pioneering family in Grand Forks, George spent his childhood in various BC locations including Ymir, the lower mainland during the 1940s, Grand Forks and, of course, Nelson.
In 1953, he married his life-long love and partner, Karen (Kitto) Bond, herself a Nelson native. Together they raised an active family of four kids, making a point of meals at the table, time for the beach at Six-Mile (but not before picking a colander of raspberries), holidays squished into a trailer, skating on a handmade lawn rink, and extracurricular involvement in music or theatre. Plus more.
George spent the vast majority of his working life in the Forest Service. From fire suppression to "cruising" to forest-site recreation, he seemed to know the name of every mountain peak and every romantic-sounding creek from the Boundary country to the Alberta border. He relished the sight of trees, geology and endless wildlife, be it a distant mountain goat, a spawning salmon at Gerrard, or a ferocious wolverine in the Flathead in what his dad eternally called "God's country."
Not satisfied with the routine life of family and career, he always felt the call to serve his community. When young he was a volunteer fireman. For many years he served as a Trustee and then Chair of the School Board. After retirement in 1988, he was a Director on the Boards of the Nelson Library and the Nelson & District Credit Union, taking special pleasure in the project to help beautify the newly developed lakefront walkway. A lover of golf, he was also a Director of the Granite Pointe golf club, instrumental in the transformation from a nine to an eighteen-hole course.
Before the cruelty of a stroke in 2008, George and Karen spent many years in travel: close to home, Vancouver's English Bay, and cruising to far-off lands in the Orient. But perhaps their greatest pleasure was – and is – their growing list of descendants, each and every one, including grandchildren: Andrea, Erika, Katie, Dylan and Emerald, and great-grandchildren: Sadie and Topper.
Friends and family will all have their own memories. Was it his incessant whistling; or perhaps the Bond trait of a strong opinion on just about anything and everything. Is that him yelling down the ice as skip of a curling team? That wave of snow must be George clearing the driveway to get the car out on a cold Kootenay morning. My God those begonias are brilliant.
These last few years have been a mixture of pain but also times of joy. Karen and her children – Stephen (Karen), Julie, Holly (Armin) and Darren (John) – and George's siblings – Lawrence, Barbara, Jack-deceased (Charlotte), Denis (Gabriele), Bud (Martine) and Roger (Marianne) – and the dozens in the extended Bond clan, would like to thank the many people at Kootenay Lake Hospital and Mountain Lake Seniors Community who treated him like the strong person he was on the inside.
As an expression of sympathy donations would be most welcome at the Heart and Stroke Foundation, 4 – 1551 Sutherland Avenue, Kelowna, BC V1Y 9M9.
A celebration of George's life will take place on Saturday, January 14th, 2012 at 2:00pm at The Prestige Lakeside Resort located at 701 Lakeside, Nelson.
Arrangements are under the direction of Thompson Funeral Service Ltd.
Online condolences may be expressed at www.thompsonfs.ca
Finally, for all of us, the outcome is the same. You might as well enjoy the journey. George understood that. For a man that lived his life with only one eye, he saw clearly.