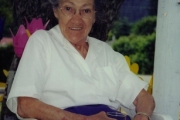 Marian Irma Freeman
Marian (Irma) Freeman was born in Minnehik, Alberta, a town now extinct, near Olds.
She was the middle child and last surviving sibling of 13. She was predeceased by her husband, Harold, in 1998, and a son, Murray Spencer Freeman, in 1972.
She is survived by three children; Bruce (Kathy) and his children, Steven (Jessica) and Brad; Gail (Larry) Badry and their three children, Sheila (Lenny), Chad (Leanne), and Terilee (Cam) Stokke; Barry (Debra) and their children, Heather and Natalie. She is survived by 7 grandchildren, 5 great-grandchildren, and 1 great-great-grandchild.
Irma joined the army during WWII and that is where she met her husband, Harold. They resided in Calgary until 1973, when they retired to Mirror Lake, BC, then to Kaslo in 1991. She moved to Castlewood Village in Castlegar in 2004, and to the Kaslo Extended Care in June 2010.
Fondly remembered are the huge family dinners under the apple trees. Mom loved to have her children and grandchildren around her. Summers were busy with lots of company. She often commented that the sheets were still warm when the next batch arrived. She took it all in stride.
A Service of Remembrance will be held on Sunday, April 17, 2011 at 12:00 Noon from the Kaslo Legion Hall with Mary Johnson as celebrant. Cremation has taken place.
Funeral arrangements are under the direction of Thompson Funeral Service Ltd.