Faraguna, Guido
(April 14th, 2022)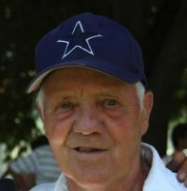 It is with heavy hearts that we announce the passing of our beloved father and grandfather Guido Faraguna on April 14, 2022.
Guido passed away with his children at his bedside and will be lovingly remembered by his daughter Gordana (Paolo, Stefano, Jenna), son Allan (Melissa, Matteo, Ryder), daughter Sindy (Robbie, Sloane), nephews Boris Faraguna and Dan Skopac, and many family and friends in Canada and Croatia.  He is predeceased by his beloved wife Gracijela (Grace) in 2007.  We take solace in knowing that Dad is now reunited with his lifetime love and dancing with Mom in the heavens.
Guido was born in Labin, Croatia on November 10, 1939, and came to Canada in 1969 with his wife and daughter.  Together, Guido and Grace, made a life for their growing family in Nelson, BC, where Dad's career spanned over 30 years with CP Rail.  Dad was an amazing sportsman and soccer player and many wonderful memories with family and friends were made on and off the soccer field travelling to games and tournaments.  Those friendships lasted throughout his lifetime and of which he often fondly reminisced; reuniting with many of those friends at his 80th birthday meant so much to him.
Dad touched many hearts, and none more so than those of his beloved grandchildren who were his world and he theirs.  We are so proud to call you Dad.  The courage and grace with which you faced your illness was humbling, you will forever be our hero, and your legacy of love and family will continue on.
A memorial service will be held on May 21, 2022, at 1:00 pm at Thompson Funeral Home.
In lieu of flowers a donation to your foundation of choice.