Evans, Andrew John (Drew)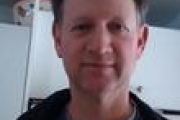 Andrew John (Drew) Evans, of Nelson, BC went to his new home on the evening of Saturday, January 1, 2016 while in the ICU of the Foothills Hospital in Calgary. Drew was fatally injured while driving from Nelson to work in the Fording Coal mine on December 22, 2015.
He is survived by his loving wife Julie; and their three children, April (21), Joshua (12) and Samuel (10); granddaughter, Anastasia, his parents, Dick and Ruth Evans; two brothers, Gary and Tony (Atonietta) and nephew and nieces; Vincent, Jennifer Evans and son Matthew, Don and Donnette, son Austi. He was blessed with so very many loving family members and dear friends, for whom he will always remain a part of their lives.  
Celebration of Life was be held at 10 a.m. on Saturday, January 9th, at Kootenay Christian Fellowship, Pastor Jim Reimer will officiate. Interment will follow at the Nelson Cemetery. Friends and family are invited for lunch at KCF. In lieu of flower, contributions in memory of Drew may be made to Haiti Arise EACHone BULDONE (A house building program in Haiti) in care of KCF, 520 Falls Street, Nelson, BC V1L 6B5.