Epp, Eileen Isabel
(November 25th, 2021)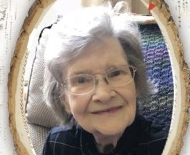 August 14, 1931 – November 25, 2021
Eileen Epp, at the age of 90 years old, passed away peacefully at Mountain Lake Care Facility on November 25th, 2021.
Eileen was born in Eldred, Saskatchewan, and later grew up in Laird, Saskatchewan. This is where she met her loving husband of 61 years, Harold.  They spent many years in Saskatoon, eventually moving to Nelson in 1971.  Eileen worked for many years at CIBC.  She was also a very active member in the Ladies Auxiliary of the Fraternal Order of Eagles and was part of the Auxiliary Executive.  Eileen took joy in sewing and quilting with never a stitch out of place.  She was an exceptional baker and always had her kitchen stocked with freshly baked cookies, treats, and homemade buns ("grandma buns"). She lived her life with kindness and grace and will be missed by many.
Eileen is survived by her children Ron (Anne), Darrell and Joanne (Frank), grandchildren Chris (Julia), Hayley, Kristina (David), Stephen (Candace), Corey (Lisa), Holly (Justin) and Krystal, great grandchildren Tayven, Kinley, Weston, Rowen, Marrielle, Ryzen and Charlotte.  She also is survived by numerous stepbrothers and step-sisters in Saskatchewan.  Eileen was predeceased by her husband Harold in 2011.
The family would like to thank the wonderful staff at Mountain Lake for their exceptional care, and the support from her friends at High Street Place and all those that sent their well wishes.
No service will be held.