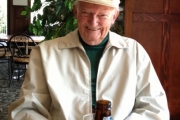 Dr. Patrick Corkery
1921 – 2014
Dr. Patrick Corkery was born in Newcastle West, Limerick, Ireland on March 21st, 1926. He was the eldest son of Josephine and Cornelius Corkery. His younger siblings were Dennis, Margaret & Nell. Patrick was schooled locally and attended University College Cork, graduating in 1949 with a degree in medicine. He moved to England and worked at the Providence Hospital in St. Helen's, Lancashire. In 1957 he met and married Barbara Mary Litherland, a physiotherapist, and resided in Warrington, Lancashire where both of his children, John & Bridget, were born. In 1961 the family moved to Bradford, Yorkshire where he entered general practice. In January 1966 the family immigrated to Canada arriving in Lloydminster, Alberta. In June 1966 the family moved to Edmonton where Patrick started a three year program in General Anesthetics at the University of Alberta. In 1969 he began a fourteen year tenure at the Royal Alexandra Hospital in Edmonton. In 1983 he and Barbara moved to Saint John, New Brunswick where he worked as an anesthesiologist at St. Joseph's Hospital until retiring in 1994. He and Barbara moved to Nelson in 2007 to be closer to their children, who had remained in the west, and their grandchildren. Barbara Corkery died on the 13th of December in 2011 in Nelson. Bridget Grace, his daughter, died on the 22nd of May 2013. He is survived by his sister, Nell O'Mahony, of Cork, Ireland, his brother Dennis Corkery of Liverpool, England, his son John of Calgary, his son in law Michael Grace of Nelson, grandsons Adam and Neil Grace, also of Nelson and Gavin of Revelstoke, BC. Patrick Corkery was a good athlete in his youth and played golf very well throughout his life. He enjoyed fishing and was a keen if imperfect musician. He was an avid jazz fan and had attended many concerts given the jazz greats whenever the opportunity arose. He died on November 11th, 2014 of natural causes having suffered from pulmonary fibrosis over the last two years. He will be sorely missed. A service was held on Saturday, November 15th at the Cathedral of Mary Immaculate with father Conrado officiating. He was then interred at the Nelson Memorial Park Cemetery.
Online condolences may be expressed at www.thompsonfs.ca
Funeral arrangements are under the direction of Thompson Funeral Service Ltd.