Craig, Jennifer Lynn
(June 1st, 2023)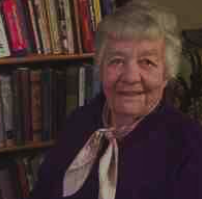 Jennifer Lynn Craig (nee Rice), died in the early hours of Thursday, June 1 (she hated the euphemism "passed"). Born in Yorkshire, England in 1934 to Leonard Rice and Elfrida (nee Bottone), she grew up with her prankster brother Nigel (who electric shocked her bedroom doorknob and took cheeky pleasure in her frustrated outbursts) in wartime England, and her 15-years-younger brother Anthony (whom she lovingly referred to as her "baby" and sent secret packages of hip clothes to at boarding school). Jenny should have died many times over in her 89 years, including when she suffered severe burns as a small child, but her determination, fighting spirit, dry humour, and outright stubbornness to refuse to let death win pulled her through.
Since Jenny grew up in and out of hospital, it was no surprise that she became a nurse in later years and she beautifully described her childhood and nursing training in her books Thank you, Sister and Yes Sister, No Sister, the latter spending many weeks  on the London Times bestseller list; her publisher brought her to Oxford, England to narrate the audiobook.
Jenny loved to travel, starting with the two years she spent in Mumbai, India as a teenager where her dad worked as a service manager for the Hillman Minx cars. It was on her travels through North America in her twenties that she met her former husband, Thomas Craig, at Scottish Country dancing in San Francisco; the two of them settled in Vancouver and built a house. Jenny's wedding ring is still encased in the wall of the kitchen, which was under construction when they had an argument. She never remarried after their divorce.
Together they had two children Stewart and Juliet Craig. Jenny was far from a model stay at home mother: there were no PTA meetings, chauffeuring of children, or cooking for bake sales for this woman. Instead she focused on teaching us to read, helped start an alternative education program at our school, and constantly reminded us of the only household rule: "don't bleed on the carpet".  Being her children included cringing embarrassment, immense pride, unbelievable frustration ("I'm not deaf, you're just not enunciating"), admiration, and always love.
Our mum made headline news when she went back to school as a single mother and "mature student" (the term was barely known) and eventually earned her doctorate from McGill University at the age of 50. Specializing in medical education, she was instrumental in revamping the BC psychiatric nursing exam, creating a continuing education program for physicians, and teaching interviewing skills at UBC Faculty of Medicine. Eventually she got fed up with the academic hierarchy and, in 1994, quit her job, sold her house, and followed her daughter to Nelson.
Her career took many turns over the years. She was a consultant in her fifties, a homeopath in her sixties, and a published author in her seventies and eighties. She climbed mountains, performed in a panto, taught aerobics, mastered knitting, and starred in a one-person play. She succeeded at anything she put her mind to, never judged a book by its cover (which she attributed to spending time in a burn ward), constantly pursued learning, drove like a banshee, and always (much to our chagrin) spoke her mind.
She became a legend in Nelson and a typical letter to the editor began with "If you had any neurons firing between your ear holes . . . ". Jenny was part of many groups, including the Company of Older Women (Coows, she assured us, not cows), the Nelson Women's Centre, Capitol Theatre, bridge group, and her precious writing group.
Tact was not her strength and she burned many bridges, especially once her undiagnosed dementia began. Agree with her or not, one had to admire her strength of conviction and fiery spirit, and those who knew her best saw the compassion, generosity, and kindness under her abrasive exterior.
We loved traveling with our mum except in later years when trips inevitably ended up with her own form of all-inclusive: a hospital stay. Her last big trip, when she flew to Ontario as a finalist for (and ultimately won) the Leacock Medal  for humour for her book Gone to Pot, she stood up to meet the Mayor at the inaugural dinner and promptly had a major stroke.
"Amma" was proud of her grandchildren: Sam, Max, Oliver, Leanne, Benjamin and Amelia; her endlessly patient in-laws Rebekkah Edwards and Thomas Stewart; her brothers Nigel Rice (Doreen) and Anthony Rice (Anna), and all their offspring, affectionately known collectively as the Rice "Puddings". As a family we enjoyed weekly Sunday dinners, endless games of SkipBo, and gut-splitting laughter.
At 89 years old, Jenny was still living independently at home with her dog Mylie thanks to the support of a caregiving team (special thanks to Kari Thomson), friend and neighbour Val Semeniuk, her patient (most of the time) kids, and astonishing determination. Her dementia had progressed significantly and we tried to find the humour in this devastating condition that left her confused about how appliances worked, convinced she'd had a nighttime visit from Bill Gates, and constantly receiving Amazon packages that she "didn't order".
She would rather have died than go into a care home, and even the universe knew better than to disrespect her wishes. She died how she lived, on her own terms, after suffering a heart attack. She had the ending she wished for with her two children by her side, exiting the world peacefully in her sleep.
A Celebration of Life will be announced at a future date.
In lieu of flowers, please consider a donation to the Knowledge Network or purchasing a book from a local independent book shop.