Bruno Arthur LaPointe Bourgeois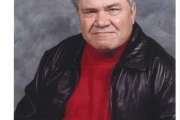 BRUNO ARTHUR BOURGEOIS
On February 22, 2012, Bruno unexpectedly passed away in his sleep at his home Creston. He was born in Nelson on September 28, 1941. His parents were Bruno and Yvonne Bourgeois. Bruno Bourgeois died in May 1941 and Yvonne Bourgeois on January 4, 1988. Bruno grew up in Nelson.
Bruno grew up in Nelson and attended the Silver King Workshop which he thoroughly enjoyed. He was a very friendly person and enjoyed sports, particularly hockey and baseball. He also enjoyed his time visiting at Safeway where he made many friends. The fire hall was also on his list and for many years he would be there for the 9 p.m. curfew horn.
In his mid eighties he moved to the Doctor Endicott Home in Creston, BC. One of his friends was living there and he also wanted to be there. Bruno worked at the Cresteramics workshop full time for many years and was attending half days for the past few years. On December 7, 1996 while walking down the street to do Christmas shopping with Connie Thrun, a care worker from the Endicott Center, they were struck by a truck that shot across the street striking them and drove Bruno through a storefronts' double-panned window. He was flown to the Foothills Hospital in Calgary where he remained for two months. This is when he lost the lower part of his right leg. After many months of hospitalization in Calgary, Kelowna, Trail, Nelson and Creston he was able to return to his home in Creston. He was very determined to walk again and he succeeded.
Bruno is survived by his sister Duane Stefiuk, brother in law Boris Stefiuk, Nelson, nephews Byron (Ellen) Stefiuk, North Vancouver, Michael (Marcie) Stefiuk, Nelson, Christopher (Melanie) Stefiuk, New Westminster, Derek (Anna) Stefiuk, Nelson and their families.
We would like to thank everyone in Nelson and Creston for their friendship, care and support of Bruno over his lifetime. He was truly blessed.
Prayers will be held at the Cathedral of Mary Immaculate on Thursday, March 1, 2012 at 7:00pm. The funeral will take place at the Cathedral of Mary Immaculate 813 Ward Street, Nelson BC on Friday, March 2, 2012 at 10:30am.
As an expression of sympathy donations may be made to Creston District Society for Community Living, Box 1820, Creston, BC V0B 1G0.
Online condolences may be expressed at www.thompsonfs.ca
Funeral arrangements are under the direction of Thompson Funeral Service Ltd.