Barbara Ann Buckshot - Poitras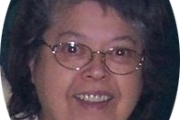 Barbara Ann
Buckshot – Poitras
Born: October 9th, 1941
Passed: August 29th, 2012
It is with a heavy heart that I announce the death of my Mom Barbara Buckshot-Poitras on August 29th, 2012 at the young age of 70. A Funeral Service will be held in the chapel of Thompson Funeral Service Ltd., 613 Ward Street, Nelson at 11:00 AM on Tuesday, September 4th, 2012. A public visitation will be held prior to the service at 10:00 AM. Following the service a Celebration of Life will be held on Saturday, September 8th, 2012 at our home, 116 Chatham Street, Nelson from 9:00 AM – 2:00 PM. In lieu of flowers donations may be made to the Canadian Diabetes Association, 1589 Sutherland Avenue, Kelowna, BC V1Y 5Y7. Online condolences may be expressed at www.thompsonfs.ca. Funeral arrangements are under the direction of Thompson Funeral Service Ltd.
"It is time for your moccasins to make their happy journey. May the stars gracefully greet you and wipe away our tears. Know that you are loved and missed."
She will be missed by all.