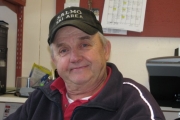 Art was born in Port Alberni, B.C. on May 30, 1936, and passed away peacefully in the Trail Hospital on July 14, 2015, after a long struggle with diabetes and heart failure.
His family and friends were at his side.
He was raised in East Vancouver and completed his BPE and MPE at the University of British Columbia. He was very proud of the big block letters that he received for his prowess in soccer and baseball from the Athletic Department at UBC .
Art taught in Kamloops, Vancouver,and for two years at Macdonald College of McGill University. He and Joan then relocated to Salmo where they settled in and raised three children. He happily spent the rest of his life devoting his time to the school and the community.
Art was active in the Salmo Lions, swimming pool, ski hill, golf course, recreation commission and Salmo Valley Youth and Community Centre.
He gave a great deal of his time to the coaching and sponsoring of school and community teams.
As well as coaching high school athletic teams, he coached the Salmo Ski Racers for many years, minor league baseball, and Salmo Youth Soccer.
He coached the Salmo Mens' championship Basketball Team in the Trail-Nelson League and was named Coach of the Year many times.
When he found some spare time, he played baseball, softball, basketball, soccer, lacrosse, hockey, etc. One of his favourite pastimes was fishing in the local mountain lakes.
Art in his lifetime received many awards and accolades for his different endeavours.
Amongst the many awards were the Celebration 1988 medals (Torch Run) and the Queen's Diamond Jubilee Award. He was thrilled to have the gymnasium at the new Salmo Secondary School named after him.
While employed with the S.D. #7, he served as Vice President, Agreements Chair, Teacher Advocate and Variance Chair for the N.D.T.A. and Vice President and President of the West Kootenay Administrator's Association.
After retirement he served many years as a School Trustee for the Salmo area.
Art was predeceased by his mother and father, his brother Trevor and many beloved family pets.
Art is survived by his wife Joan, son Morgan of Seattle, daughters Krista (Al the Keeper) of Port Coquitlam, and Megan of Kimberley, four grandchildren, Evan, Cole, Angela, Jacob and dog Clyde.
Many young people were influenced and encouraged to continue their athletic activities in baseball, soccer, tennis, and skiing long after they left the school system. It seemed that Art eventually crossed everyone's recreational path.
His last wish was that his body be donated to UBC but, sadly they were unable to accept this donation. Cremation has taken place and a celebration of life will be held in the fall.
As an expression of sympathy donations may be made to the Salmo Valley Fund, one of Art's favourite charities. Please make cheque out to Osprey Foundation, C/O Salmo Valley Fund — Art Field, sending to Salmo Community Resource Society, Box, 39, Salmo, BC.
The family wishes to thank all those who helped in any way, be it visits, cards, food, etc. and a very special thanks to Lou DeRosa (Trail) and Rita Barker (Trail).
Their presence throughout the last months of Art's life helped the family cope with a very difficult situation.