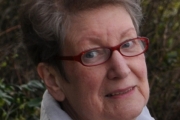 Alie Jonker (nee Aaltien Jansen)
January 7, 1947 – September 23, 2012
Alie passed away in the presence of loved ones at Kootenay Lake Hospital. A resident of Nelson for 41 years, Alie's commitment to her community, friends, and family was admired and respected by the many people who knew and loved her.
Alie will be deeply missed by her husband, Jan, her children, Dirk and Berdine (Mike Ironstand), and her granddaughter, Maya, whom she loved dearly. Alie also leaves an extensive family in the Netherlands, including her brother Theo and sister-in-law Marja, nieces and nephews, and many cousins to whom she was very special.
Alie's memorial service will be held on Sunday, September 30, 2012 at 2pm at Nelson United Church.
In lieu of flowers, donations may be made in Alie's name to the Honour House Society, 509 George Street, New Westminster, BC, V3L 1L1.
On line condolences may be expressed at www.thompsonfs.ca
Funeral arrangements are under the direction of Thompson Funeral Service Ltd.