Parks bylaw amendment questioned in council by IHA representatives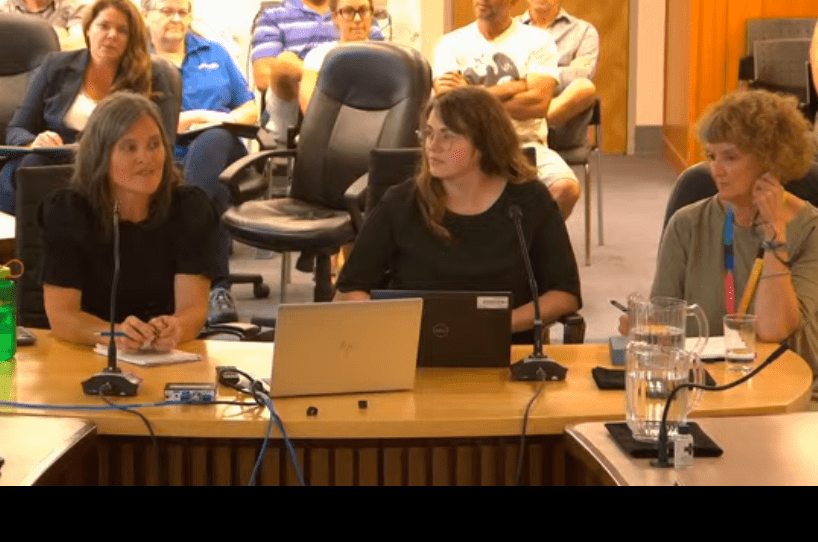 Company line rhetoric ran up against the foundation of the community's common sense as expressed by City council when discussing the merit of drafting a bylaw amendment for public consumption of controlled substances.
Representatives of the Interior Health Authority appeared before City council Tuesday night in council chambers — during the educational session portion of its regular monthly business meeting — and trotted out contentions to the City's proposed Parks Amendment (Public Nuisance) Bylaw.
The purpose of the amendment — which had received the first two of four required readings at that point — was for the "protection and enhancement of the wellbeing of the community by prohibiting the public consumption of controlled substances in city parks."
However, medical health officer for the region, Sue Pollock, said under the Public Health Act and the Community Charter there was an obligation for local governments to consult with their medical health officer on bylaws and matters that could impact the health of the public.
"And I do think that this (proposed) bylaw has that potential to impact health and that potential to increase the risks and drive people to underground areas and alleys and maybe use (controlled substances) unsafely," she said.
"It is just a recommendation so I'm not here to approve or disapprove a bylaw, but it is part of the formula of the consultation process."
She recommended the City defer the creation of an amended bylaw and wait to assess if the upcoming province-wide approach to regulating public consumption of substances met the City's needs.
She said it could instead collaborate with health and community partners to address the housing crisis and increase access to appropriate and safe places to consume substances (such as inhalation overdose prevention sites).
"When we look at a bylaw such as this we may look at those who are using, even in their own home, that there may be a fear that they can't come out and actually seek help," said Pollock. "As medical health officers we do recognize that there are risks related to restricting public consumption of toxic unregulated substances."
She said there were some improvements in the toxic drug crisis and its impacts prior to 2020, but post-pandemic there is a worsening crisis now. By having bylaws in place, and amended bylaws in place, that restrict drug use in public spaces means users will be driven underground.
"We want to ensure that people that are using toxic substances have safe places and are around other people when they are using these toxic drugs because they very well might need someone to help them out if they get into a situation of an overdose," said Pollock. "So we don't want this situation to be driven underground any further than it already is and we are concerned that individuals will no longer have access to that lifesaving assistance and support."
Coun. Jesse Woodward said what was on everyone's mind when it was City council's turn to speak.
"I guess the feeling that I have through all of this is what about the rest of us," he asked, drawing applause from the audience gathered. "This (users) is quite a small percentage of our population and the job of council here is to look out for all of the people who live in this town.
"And I know that this is a crisis situation but, as a councillor, one of my responsibilities is to make sure that there is the bare minimum … of solid, safety protocols for our community, for everyone," he added. "So what about that issue for the rest of us? (How) can we walk around our town and feel safe, that our kids can run around a park and not have to worry about a needle or a shattered pipe or a bag of fentanyl on the ground?"
But society is losing community members in ways that are preventable, said Pollock.
"These are, in my mind, preventable deaths of many people. I hear your point about all of the community members that are affected, who want to take their children to a park and not want to step on a pipe or a needle. Absolutely.
"But I do want to try and be that voice for those who aren't being heard and there are individuals out there; there are individuals who in our community who are facing a severe health crisis. Try and see this not as a criminal issue but as a health issue."
There is a misunderstanding in terms of where the City is coming from on the bylaw amendment, said Coun. Rik Logtenberg. He characterized the IHA's explanation of the societal issue as "a baseline of understanding of the issue," but lacked some insight.
"What we are looking at here is trying to navigate an emerging social contract with illicit drug use that might eventually become just legal drug use," he said. "The pilot stage is trying to understand the dimensions of it: what will have an effect in terms of reducing deaths, but also get to a place where we are managing the overall net health of people.
"The bylaw, as I see it, is not punitive, it's really about making explicit this social contract, which we kind of do all the time."
He pointed to the issue of zoning, as an example, as it related to municipal government and the social contract. Zoning regulations do not punish people for something, he said, it just communicates what the community would accept in a certain area. That philosophy holds for how a municipality defined parks and playgrounds: as an area for kids to play, not for drug users.
"All of that is about making clear to everybody where and how we live in our community," he said. "Because, if you don't say where something is not appropriate it is not clear. Saying you can't do drugs in this area is in some sense saying it is okay to do drugs in this area.
"So I think some of this misunderstanding comes as a reaction to decriminalization itself. When a council like Nelson or someone else is trying to wrestle through where it is appropriate, and how to manage something that we didn't initiate — we are just trying to help the community navigate. What we are getting into … might be seen as reactionary, when it is really about trying to make this work."
The complaints the City is seeing from the public about drug use downtown is at a level never seen before, said Logtenberg, and some are coming from people that were initially supportive of decriminalization.
"In fact, I think stigmatization is increasing. So … that needs to go into the study; is stigmatization increasing or decreasing? If open drug use is increasing the stigmatization in the community, then that in itself is going to drive users back underground," he said.
Pollock could not counter Logtenberg's points, instead answering with a question.
"I'm trying to understand what is the problem that is trying to be understood here by a bylaw," she said. "I think that is important and that is a question that I would have and I will put that out there."
Public drug use pre-dates decriminalization and there is no evidence or information that more people are using drugs as a result of decriminalization, Pollock pointed out.
"It might be a little more visible, and that's because people are feeling a little bit safer to use out in the open, which is actually a good thing if they can just get lifesaving health intervention," she said. "My one question would be what is trying to be solved by the bylaw and, second, I would say that if there are going to be restrictions put in place in terms of where people can use there, again, there needs to be alternatives and those need to be available and in locations that need to be where people can access them."
Jordan McAlpine, IHA decriminalization lead said there were other concerns raised by the potential bylaw.
"I am already worried about the (users) that are too scared to identify themselves, and does this bylaw express to them that they are loved and valuable and that we care about them and we want them to be as open as they can with us so we can give them whatever supports that they need?" she asked.
"It does a really good job of showing that you are considering everybody's use of space and feeling safe in the space, but I am just concerned about what might be the overarching message to somebody that maybe doesn't necessarily identify themselves publicly but sees themselves as maybe people that aren't being cared for in the way that they need to."
Coun. Kate Tait said if there was no evidence on the effect of decriminalization on drug use, was there any evidence about decriminalization reducing deaths on the street?
"That's an easy yes or no question," she said.
It wasn't a yes or no question, said McAlpine.
"Overdose deaths are due to the toxicity of the unregulated drug market," she said. "But decriminalization is really about reducing the criminal penalties and stigma from folks, but decriminalization in and of itself does not address the toxicity of drugs, so we are going to continue to experience deaths as drug toxicity increases.
"So it's a challenging thing to measure since we are only six months into decriminalization."