Nelson boxer Lola Brouillette gains valuable experience competing in Colombia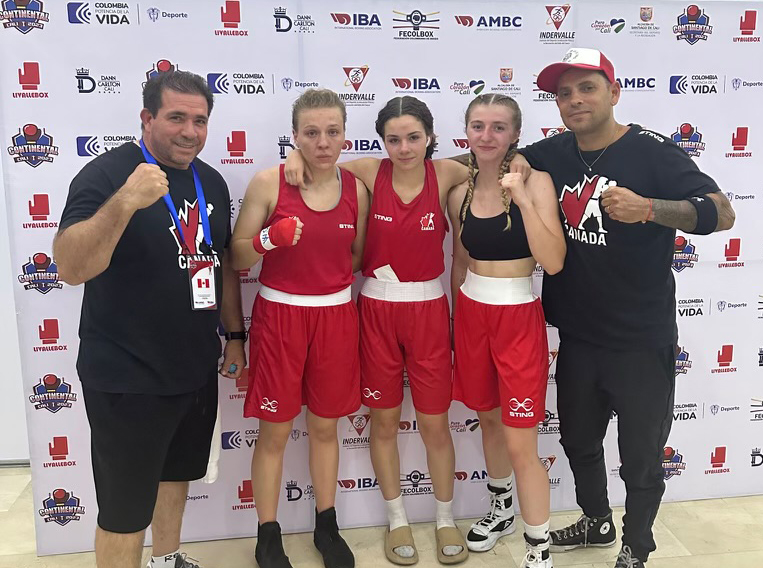 Nelson boxer Lola Brouillette won a silver medal in the 52Kg female division at the Continental Championships held earlier this month in Cali, Colombia.
However, while the medal will definitely find a special place in the trophy case of the Nelson Boxing and Athletics Club boxer, it's the valuable international experience that will provide the most benefit to Brouillette.
"This was an amazing step forward for someone who has only boxed for two years," said Team Canada and Nelson Boxing and Athletics Club coach Jesse Pineiro, who joined Brouillette at the August 3-10 Continental Championships.
"Lola now has gained national experience and international experience . . . something that just doesn't happen every day."
There were only three fighters in the 52Kg female division.
Brouillette, 17, earned a bye into the final against a Mexican boxer who had won the semi-final bout against a boxer from host Colombia.
Brouillette held her own against the five-time Mexican champ before eventually losing out in a decision.
"Lola had the skills to win that bout," Pineiro said.
"With a little more experience she would have beat (the Mexican fighter)."
Pineiro was one of three coaches heading up Canada's Youth Team in Cali, Colombia — his first taste of coaching at the international level.
"I felt great . . . this is something I've been working toward for a long time," Jesse Pineiro explained.
"And the lights, television cameras and flags made it really great to be a part of."
Pineiro learned a lot interacting with the other Team Canada coaches in Cali. Experience that will definitely keep the coaching fires burning.
"I learned a lot coaching in Cali, and I'm motivated to keep learning and keep getting better to be able to stay at this level," he said.
Team Canada finished the Cali Continental Championships with two gold and a handful of silver and bronze medals in the Youth Division and four gold and more silver and bronze medals in the Elite Competition.
With the Continental Championships and an exhausting 24-hour trip back to Nelson in the review mirror, Pineiro and Brouillette can now shift their focus attention on the next challenge — another international bout, next month in Ireland.
Nelson will be sending a handful of boxers, including Brouillette, to the competition.
After Ireland there's the BC Championships in November and the Nationals in December — the latter Canadian Championship especially important for Brouillette to remain in the national spotlight.
Brouillette, has one more year competing in the Youth before she turns 19 and must move up to the Open category.
"There's lots of reason for Lola to stay in the gym and be motivated," Pineiro said.
Pineiro included, who has now had a taste of coaching for Team Canada on the international stage.
"I've learned a lot and have lots of motivation to keep learning and keep getting better to stay at this level."