RDCK Fire Departments respond to call near Taghum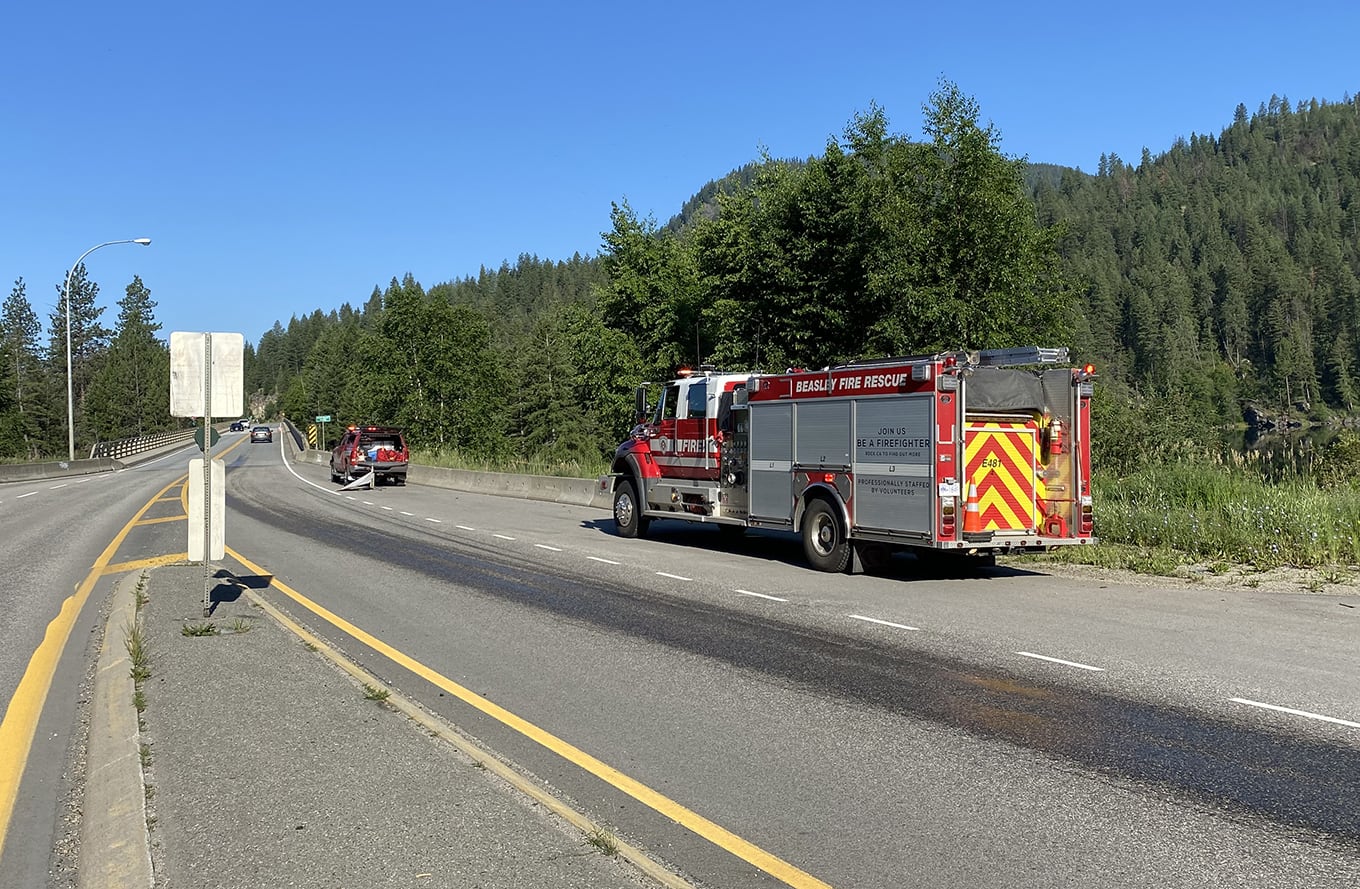 It was an early-morning wakeup call for residents in Taghum and Blewett Friday morning as first responders raced to a fire call approximately 10 kilometers west of Nelson.
Regional District of Central Kootenay volunteer firefighters from the Beasley, Blewett and Crescent Valley Departments were called out to a suspected wildfire near the Highway 3A/6 bridge a few hundred meters west of Granite Road.
The Nelson Daily was told that crews found a campfire near the highway bridge.
The fire was handled with and firefighters from Blewett and Crescent Valley returning to their respective halls while Beasley responders monitored the scene for a short time.
In the Southeast Fire Centre, which extends from the U.S. border in the south to Mica Dam in the north, and from the Okanagan Highlands and Monashee Mountains in the west, to the B.C.-Alberta border in the east, Category 2 open burning prohibition and campfires are permitted.
Category 2 open burning includes:
one to two concurrently burning piles no larger than two metres high by three metres wide
burning stubble or grass over an area less than 0.2 hectares
the use of fireworks
the use of exploding binary targets
the use of air curtain burners
the use of sky lanterns, and
the use of burn barrels or burn cages
Residents are reminded to take the following precautions with any Category 2 open burning:
Never leave a fire unattended.
Follow the Open Burning Smoke Control Regulation: http://ow.ly/9LnG50L1fjf
Check the local venting index. Venting index information is available by calling 1 888 281-2992 or visiting: http://ow.ly/5MHN50L15iu.
At least one person equipped with a firefighting hand tool must monitor the fire at all times.
Never burn in windy conditions. Wind may carry embers to other combustible material and start new fires.
Create a fire guard around the planned fire site by clearing away twigs, grass, leaves and other combustible material right down to the soil.
Make sure that your fire is fully extinguished and the ashes are cold to the touch before you leave the area for any length of time.
Anyone found in contravention of an open burning prohibition may be issued a violation ticket for $1,150, required to pay an administrative penalty of up to $100,000 or, if convicted in court, fined up to $100,000 and/or sentenced to up to one year in jail. If the contravention causes or contributes to a wildfire, the person responsible may be ordered to pay all firefighting and associated costs, as well as the value of the resources damaged or destroyed by the wildfire.
These prohibitions apply to all public and private land within the Southeast Fire Centre jurisdiction, unless specified otherwise in an enactment (e.g., in a local government bylaw). Always check with local government authorities to see if any other burning restrictions are in effect.
The BC Wildfire Service thanks the public for its continued support and co-operation during the fire season. To report a wildfire, unattended campfire or open burning violation, call 1 800 663-5555 toll-free or *5555 on a cellphone.
 To report a wildfire, unattended campfire, or open burning violation, call 1 800 663-5555 tollfree or *5555 on a cellphone. For the latest information on current wildfire activity, burning restrictions, road closures and air-quality advisories, visit: http://www.bcwildfire.ca
Follow the latest wildfire news on:
— With files from BC Wildfire Service