Panko-Dool, Erickson selected Top All Around Athletes at LVR
Aurora Panko-Dool and Mitch Erickson were selected the Top All Around Athletes at the recent L.V. Rogers Athletic Awards Ceremony.
LVR Athletic Department salutes the top athletes at the conclusion of the school term from fall, winter and spring sports to culminate the high school sports season.
Panko-Dool earned the Top All Around Athlete after competing for the Bomber Girls' Soccer and Rugby teams.
Erickson, in Grade 11, competed in the fall on the LVR Cross Country Running squad, during the winter on the Senior Bombers Basketball team and during the spring on the Track and Field team.
The Top All Around Awards were presented to the students who participated at a high level in more than one sport.
Other Awards included:
Top Scholar Athletes — Top Grades and Athletic Achievement
Olivia Bezaire — Volleyball
Tamias Elder — Rugby
Outstanding Athletes — Single Sport
Abby Ens — Volleyball
Mitch Erickson — Cross Country Running
Bomber Awards — Awarded to athlete showing to be a team leader and dedication both on and off the court/field as well as a coachable player who adds to team experience
Volleyball — Tanner Jackson, Sedona Shuel, Paityn Lake
Cross Country & Track and Field — Mitch Erickson
Swimming — Kadie Badry
Boys Soccer — Szymon Poitras
Basketball — Dawn Cook, Levi Konkin, Kailash Sanjivi
Tennis — Olivia Bezaire
Girls Soccer — Thea Rude
Rugby — Kalyse Kerr, Ethan Markevich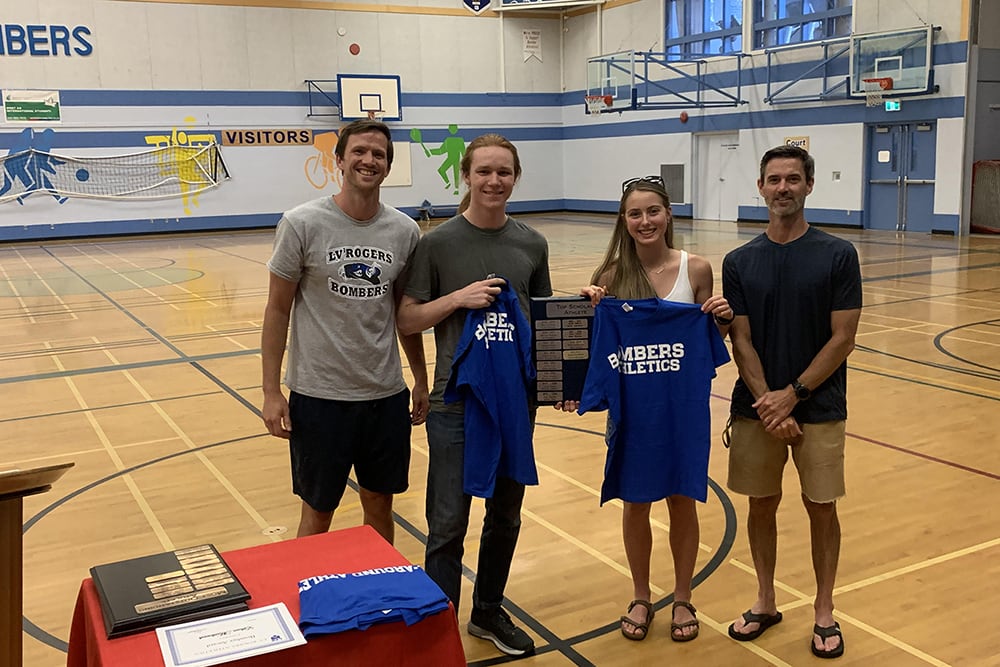 Olivia Bezaire and Tamias Elder receive Top Scholar Athlete awards from Coach Ryan McKinnon and Athletic Director Jeremy McComb.
Mitch Erickson and Abby Enns receive Most Outstanding Athlete awards from Coach Ryan McKinnon and Athletic Director Jeremy McComb.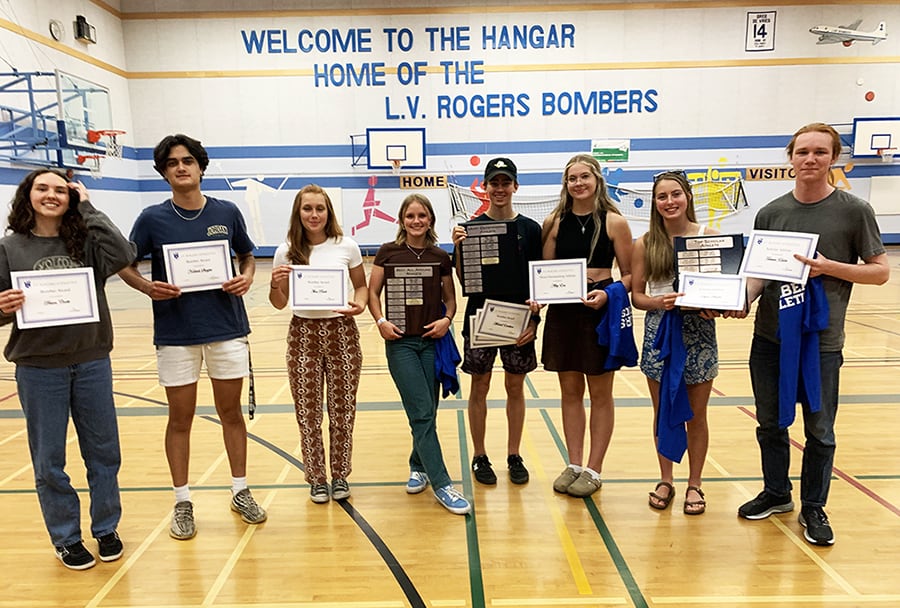 Receiving Bomber Awards, from left, Dawn Cook, Kailash Sanjivi, Thea Rude, Aurora Panko-Dool, Mitchell Erickson, Abby Ens, Olivia Bezaire and Tamias Elder.