Advertorial — Postech Piles West Kootenay hits the ground running in Nelson
Imagine constructing a house without worrying about building a concrete foundation.
Anyone who have ever been involved in a construction project, probably knows what a massive, time-consuming expense that building a foundation can be.
But now there is an alternative out there called Postech Screw Piles.
Postech piles are geared toward residential consumers for foundations, fences, and solar systems. A new company is distributing this innovative product in the West Kootenays.
Postech Piles West Kootenay invites the public to consider an alternative when deciding the best solution to the foundation when building a structure.
Postech Piles is a Canadian company specializing in manufacturing, distributing and installing galvanized steel screw piles for the residential and light commercial markets. The great thing about this product is that you can build right on the piles.
Clark Palfenier, Mackenzie Collins, and Matthew Fuhr own the local distribution company.
"We're the West Kootenay distributor of Postech helical piles, which are essentially big screws that go in the ground," explains co-owner Fuhr, who also is part owner of Nelson's Fuhrious Construction.
"They are used in foundations, an alternative to concrete, and in some situations a cheaper alternative."
Fuhrious Construction is the parent company. The partners all work at Fuhrious Construction, so working together was a natural fit.
"We found this great new product and thought it would be a great opportunity to partner to bring it to the West Kootenay market," says Fuhr.
There are many ways that this product is superior to traditional concrete.
For one, it's a cheaper and faster alternative to a concrete foundation.
It's also a greener, reusable, and sustainable solution, with no damage to the ground from excavation and no waste or mess left behind. Quick and simple installation is done at a low cost with minimal equipment. It saves time with the overall construction project, and can also save money because the foundation is the most expensive part of building a house
"The advantage is you can have a cheaper foundation for your project and they can come in and drill the piles in a day and be gone, instead of digging a hole and pouring concrete in there, waiting for it to cure, and setting it up, stripping everything, filling the hole back in which creates a big mess. This is a faster solution," says Fuhr.
Fuhrious Construction does the pile installations locally.
"I'm a developer, and I've built a few houses around the Nelson area, and with costs going up, I was looking for cheaper alternatives to build a house. I looked into helical piles and found that with the right application, you can save 10-20% on your home construction by using piles instead of a foundation," says Fuhr.
The other feature of the piles that makes the product unique is that every part of the piles are galvanized, which is a weatherproofing coating that goes on the steel, a unique feature of the piles. It stands apart from other companies that just use raw steel. Another incredible product aspect is that they are thermalpiles, which means the piles have spray foam insulation inside, greatly reducing the chance of frost heave.
Helical piles have been around for almost two centuries, but did not become well known in the residential construction realm until more recently. While this product is used in Ontario and Quebec residentially, there has yet to be a market for the product in Western Canada.
This is where Postech Piles West Kootenay comes in.
People building homes in the area can consider using this cutting-edge method. They would need an excavator with a specific attachment to do an installation. Remember that this method won't work for people who want a basement as part of their build.
The three co-owners of Postech Piles West Kootenay are hoping to educate the consumer public about this being an option for foundations, fencing or solar panels.
"We want to get the word out there and start doing installations across the West Kootenay region. We're the only installer with territorial rights and the only distributor of the piles in this area," says Fuhr.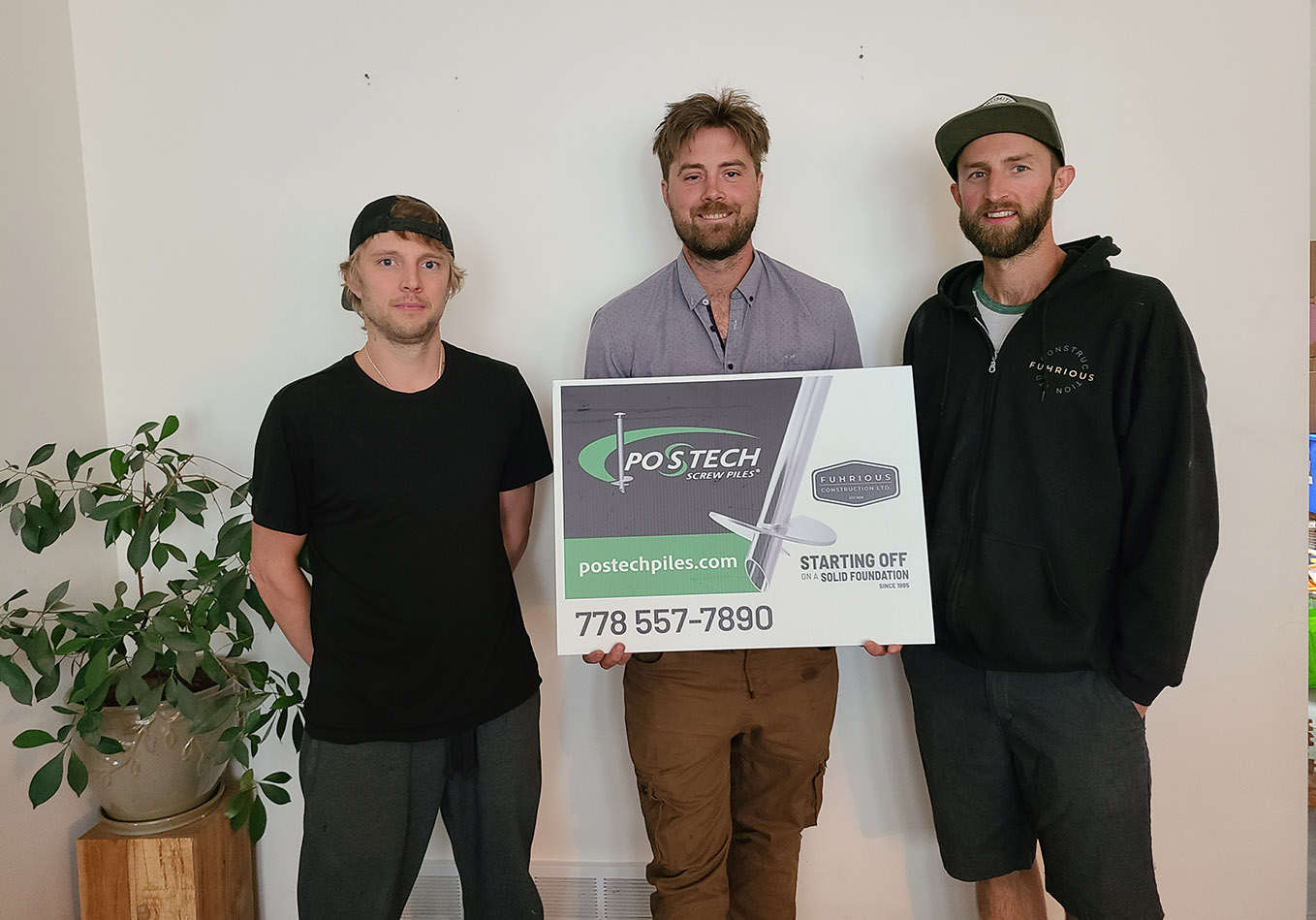 From left, Postech co-owners Matthew Fuhr, Mackenzie Collins and Clark Palfenier are ready to talk about Postech, a quick and simple installation that can be done at low cost with minimal equipment.
Check out this video here:
You can learn more about this unique product here:
Or watch this video.
To book an installation or ask questions, please contact:
(778) 557-8626