Leafs Brockett signs with Jamestown Jimmies, team host weekend evaluation camp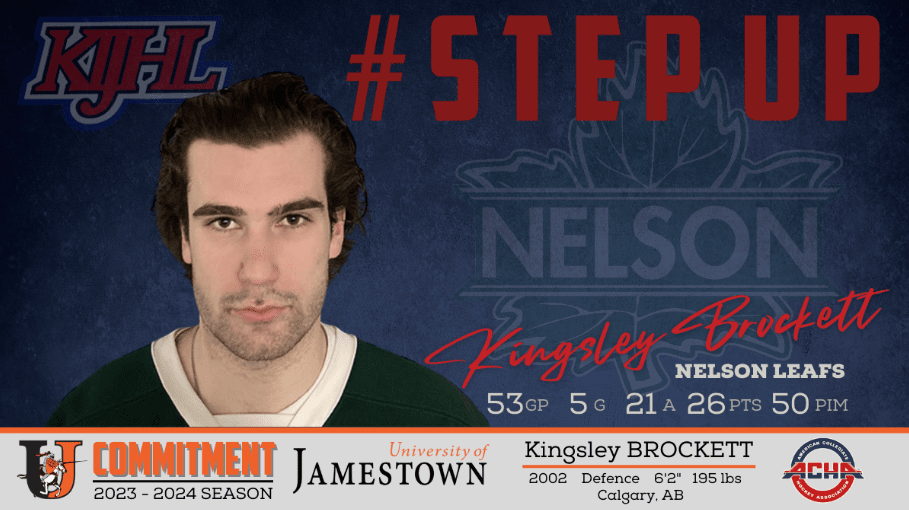 Nelson Leafs defenceman Kingsley Brockett has signed to play in the American Collegiate Hockey Association for the University of Jamestown Jimmies in 2023-24.
The 6-2, 195-pound blueliner completed his third and final season in the KIJHL with the Leafs recording 15 points in 38 regular season games. The Calgary product began his KIJHL with the Sicamous Eagles in 2020-21 and registered eight goals and 35 points in 68 career games. He played in 28 KIJHL playoff games, collecting five assists.
Brockett is excited to begin a new chapter that will further his education and play hockey at a high level.
"Jamestown checked all the boxes for me and was an easy decision to make when talking to the coaching staff and players about the program they have," Brockett said.
"Playing in the KIJHL helped me develop defensively and turned me into a two-way defenceman. I'm thankful for all the coaches I had in Sicamous and Nelson that helped me mature on and off-the-ice and helped push me to the next level."
Leafs Head Coach Briar McNaney said that Brockett was a very important part of the team to start 2023.
"One of the biggest goals as a coach is to have a positive team culture and a fun atmosphere," said McNaney.
"Kingsley ticked every box a coach can ask for when it comes to creating a fun team culture and by being a good example on and off-the-ice.  This is an incredible opportunity for him that was well earned and we couldn't be more proud of him."
The Leafs are preparing to host a join evaluation camp with the Coquitlam Express of the BC Hockey League beginning Friday at the NDCC Arena.
The camp opens Friday afternoon with the Top-40 game set for Sunday afternoon at 2:15 p.m.