Daily Dose — Nelson Air Cadets Celebrate 70 Years
September 2022 marked the start of the 561 Nelson Osprey Squadron's 70th training year.
For decades, the squadron has provided affordable activities for teenagers aged 12 to 18 years living in Nelson, Salmo, South Slocan, Balfour, Nakusp and areas in between.
"We've been in the Nelson community for 70 years now," said Major Kevin DeBiasio, Commanding Officer of the Nelson Squadron.
"Hundreds of cadets have been through the program. It's a positive youth program that gives the cadets free experiences they won't get anywhere else."
The Royal Canadian Air Cadets accepts youth wishing to learn more about the air element of the Canadian Forces, develop attributes of leadership and good citizenship, and promote physical fitness. While the program is military-based, cadets are not obligated to join the Canadian Armed Forces when they finish their cadet career.
This is a part-time position for DeBiasio. He started with the program as a cadet in Trail in 1976 when he was 12 years old.
In 1983, he enrolled in the Canadian Armed Forces and became an Officer with 531 Trail Squadron. DeBiasio received his Glider and Power Pilot's License as a cadet.
Since then, he has been involved with several squadrons and cadet gliding operations in BC and Alberta and is a Trail Flying Club member.
He works at FortisBC in Information Technology and travels from his home in Trail to lead the Nelson cadets.
"This is my second time as commanding officer of Nelson," DeBiasio said.
"2016 was the first time. A fair number of adult staff in the cadet program are former cadets. Parents of cadets also get involved as volunteers."
For him, the most rewarding aspect of the program is supporting the youth.
"For me, it's seeing the cadets progress from 12-year-olds into young adults."
Any member of the community is welcome to become a member of the local Squadron.
Cadets' training includes Leadership, Outdoor Survival, Music, Aviation and other skills.
Advanced summer training programs include Power and Glider Pilot License, Music, Sports and Fitness, Range, Leadership, Music and International Exchange.
The Cadet Program is free and open to all Canadian youth regardless of income, race, religion, culture or other socioeconomic factors. The program is amid changes to make it more inclusive to kids of all genders. DeBiasio says that of Nelson cadets, 60 percent identify as male, and 40 percent identify as female.
All dress regulations are now changed to gender-neutral.
DeBiasio says he has seen some cadets go on to careers in the military.
"That's a side benefit of the program. We are not a recruiting tool for the military. The government supports the program as a national free youth activity. One of the goals is familiarization with the Canadian Armed Forces."
During the summer, senior cadets can attend training across the country and locally for junior cadets, and cadets can also receive high school credits for completing their training.
The Royal Canadian Air Cadets, in partnership with the Air Cadet League of Canada and the Department of National Defence, has trained youth in Canada since 1941. The Cadet program, which includes Sea, Army and Air Cadets, is the largest government-funded youth program in Canada, with over 50,000 participants across Canada.
As part of the 70th anniversary, the Squadron hopes former cadets or adult staff will be in touch to share photos and life updates here: 561air@cadets.gc.ca.
The squadron meets every Wednesday evening at the Nelson Eagles Hall, 641 Baker St, from 6:15 to 9 pm and runs activities on several weekends throughout the year.
Adults who would like to volunteer with the squadron are also welcome.
For more information, check out: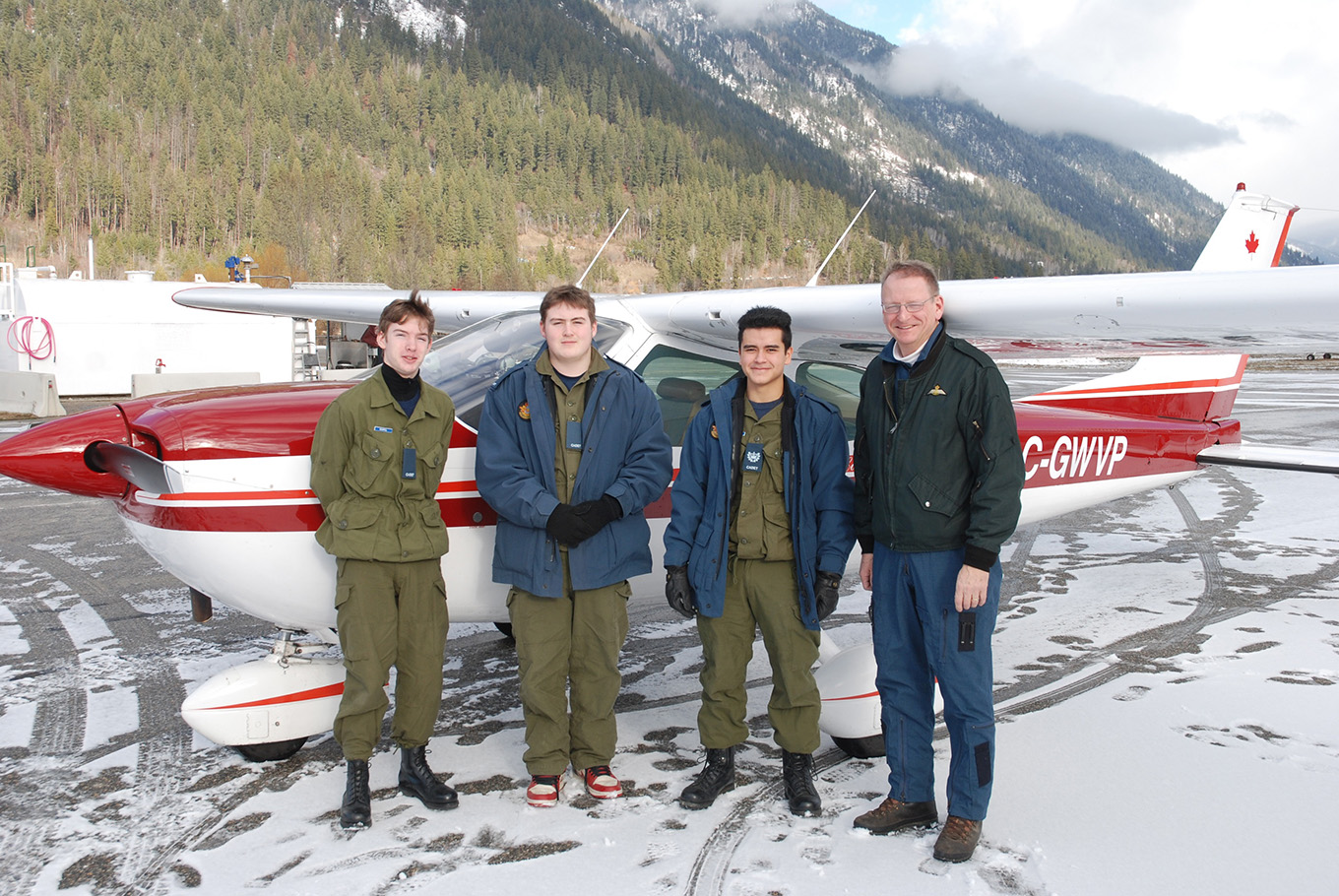 Air Cadets from 561 Squadron, from left, Samuel Rempel, Marshall Jones, Brandon Brook with pilot Mark Mozel following a training flight.
Major Kevin DeBiasio, Commanding Officer of the Nelson Squadron is in his second stint at the helm of the local squadron.