Nelson Votes: Candidates square off at CFUW forum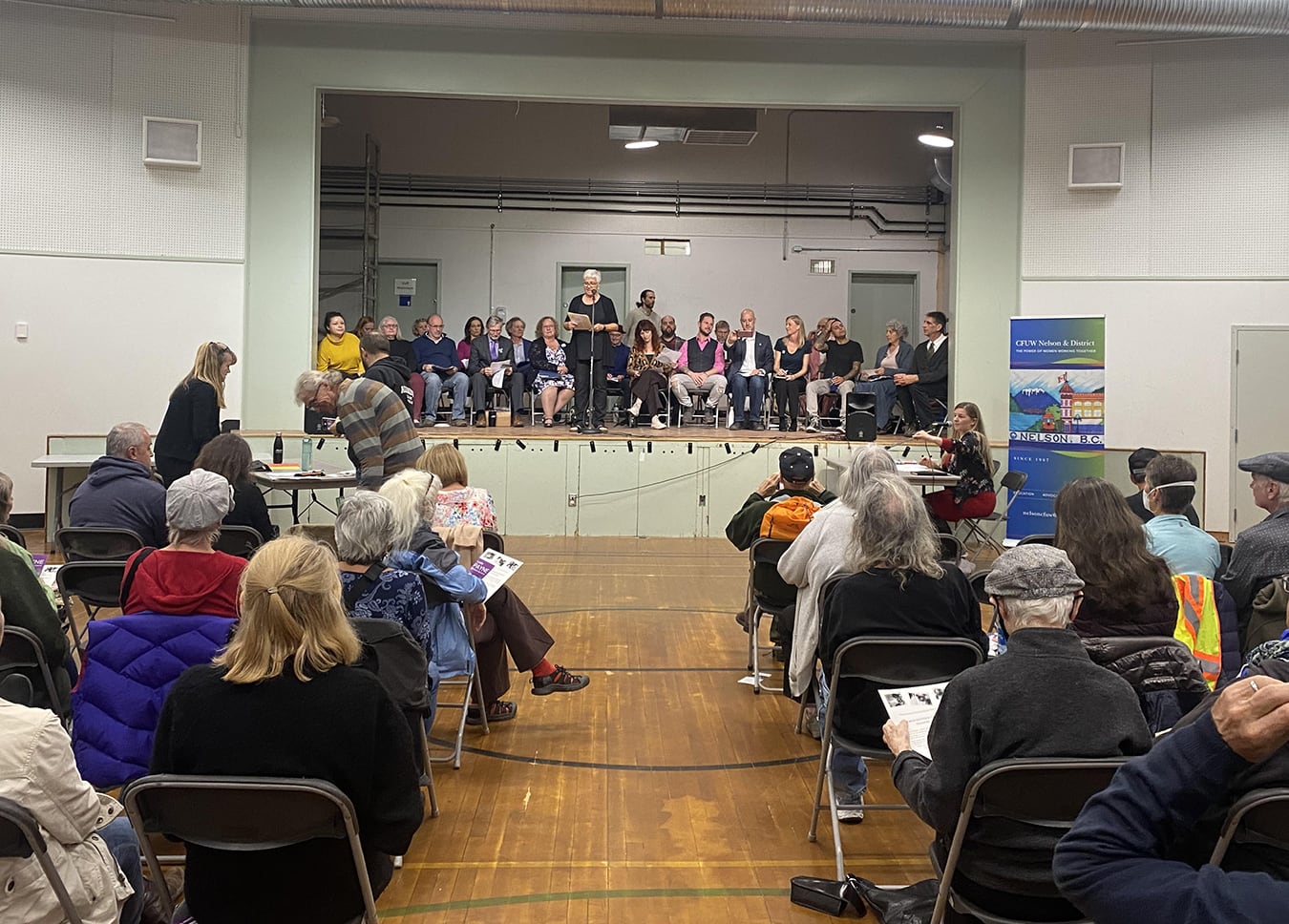 One of the many chances City of Nelson voters could see candidates up close and in-person before the upcoming municipal and school board general election was held Tuesday evening at Wildflower School (former Central School) gymnasium when the Canadian Federation of University Women hosted a general candidate's forum.
The forum was a chance for voters to have questions put to the candidates by the CFUW moderator.
"I was honour to be asked by the CFUW to moderate this event," said Eleanor Stacey following the forum.
"It was my first time in this role and a lot of fun to be part of such an important and longstanding local election forum."
There were no "earth-shattering" moments as the candidates each stuck to their own scripts.
On Wednesday, the slate of all-candidates forums shifts to the Prestige Lakeside Resort from 7-9 p.m. with the Nelson and District Chamber o Commerce event.
Long-time political pundits and former reporters at the former Nelson Daily News (editor) Bob Hall and Darren Davidson will moderate the forum.
Hall, a chamber director and Davidson, a business recovery advisor and communications consultant, will put questions throughout the evening to the five mayoral candidates and ten people running for council.
"This will be a business/economy-focused forum, with some social and environmental, as to how the issues may impact business and the community," said the latest chamber newsletter.
People can pose questions to the candidates prior to the event at info@discovernelson.com
One day after the forum a "Candi-dating" event will be held at Torchlight Brewing (125 Hall Street, 6:30 p.m.) on Oct. 13, featuring no speeches, no public question period and a non-partisan bent, despite the event being hosted by the Nelson-Creston B.C. Green Party.
The event will be the last before the main event on Saturday, Oct. 15 (8 a.m. to 8 p.m.) at the Prestige Lakeside Resort when the municipal, school and regional district general election will be held.
The Nelson Daily has been profiling municipal candidates for Saturday's election.
Click on this link and scroll through the news stories for many of the mayoral candidates and people running for council.