Ch-ch-ch-changes: Nelsonites turn and face the change as Morrison steps into mayor's chair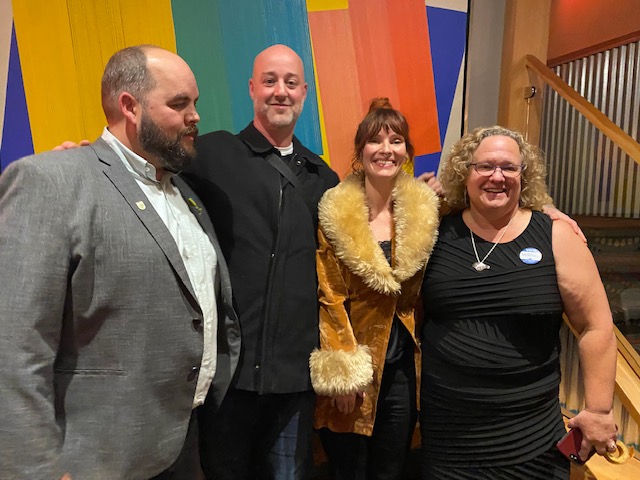 The winds of change have blown at City Hall.
Former councillor Janice Morrison has swept into the mayor's seat in Nelson after the results of the Municipal Election 2022 have been tabulated on Saturday night, ending incumbent mayor John Dooley's chance to repeat and add a fifth term to his record of four.
Morrison found favour with 1,562 voters as her platform and previous work at the municipal and regional district level resonated with Nelsonites.
"I am truly excited, I am overwhelmed and I am humbled," Morrison told The Nelson Daily after the win.
She felt she had a cross-section of support from Nelsonites in the win.
"I think everybody came to the table. If we were to look at who voted … but I think there was a broad, cross-spectrum of people that voted for me. I talked to young voters, encouraging them to get out, even if they weren't voting for me."
Morrison's family lineage can be traced back over 100 years in Nelson, but it wasn't her family roots that propelled her to the mayor's chair.
"I think people in general were just looking for some change," she explained.
But it was perhaps the strong showing and presentation shown by first-time mayoral candidate John Buffery that split the vote for Dooley, with both Buffery (897 votes) and Dooley (915 votes) nearly identical in the ballots.
Despite his charm and innate grasp of local and grassroots issues mayoral candidate Tom Prior did not garner an equal showing of ballots, securing 67 votes. Throughout the campaign, Prior was able to push the dialogue into areas where it has not gone before.
The same went for long-time Nelson resident Mike Zeabin who, despite running a classy and thoughtful campaign, was only able to amass 29 votes of support for the views he presented.
Speaking of council
In one of the strongest showings of support in several elections, political newcomer Kate Tait recorded 2,417 votes, far ahead of veteran and first-time councillor candidates.
The master mathematician did a number at the polls on Saturday night, turning a wealth of community service and volunteerism into a strong political platform and, ultimately, votes.
The three incumbent councillors followed next, also with strong showings, with Jesse Woodward (2,060 votes), Rik Logtenberg (1,813 votes) and Keith Page (1,732 votes) cruising to another term on council.
All three were well-versed on the issues at hand in council, as well as those they had to field at the various forums and political gatherings leading up to the vote.
Close behind Page was newcomer Jesse Pineiro, who ran a simple and honest campaign that 1,626 Nelsonites felt was worthy of a vote. Only 100 votes behind him was Leslie Payne, who rounded out the six councillors chosen for the next term.
Just missing the cut was Glenn Sutherland (1,370 votes) — an extremely active community and businessman in Nelson — whose business acumen and insight will be lost to council.
Ainsleah Hastings also came close (1,138 votes) as did Brenton Raby (788 votes), despite his depth of knowledge of city politics and operation of municipal government. The talents of Kyle Wilkinson (656 votes) will also be missed in council.
Scholastically inclined
It was a six-way race for two trustee spots in the School District No. 8 election portion of the day.
Rising to the top and well ahead of the field were Julie Bremner (1,417 votes) and Murray Shunter (1,243 votes), who will assume the mantle of trustee for Nelson at the new school board table.
Tricia Braun (638 votes), Lesley Garlow (431 votes), Tamara Ziemer (272 votes) and Kathy Krulitsky (212 votes) missed the voting cut for the board.
Incumbents Bill Maslechko and Sheri Walsh did not seek re-election.