Cash comes in to help community purchase parcel of land for park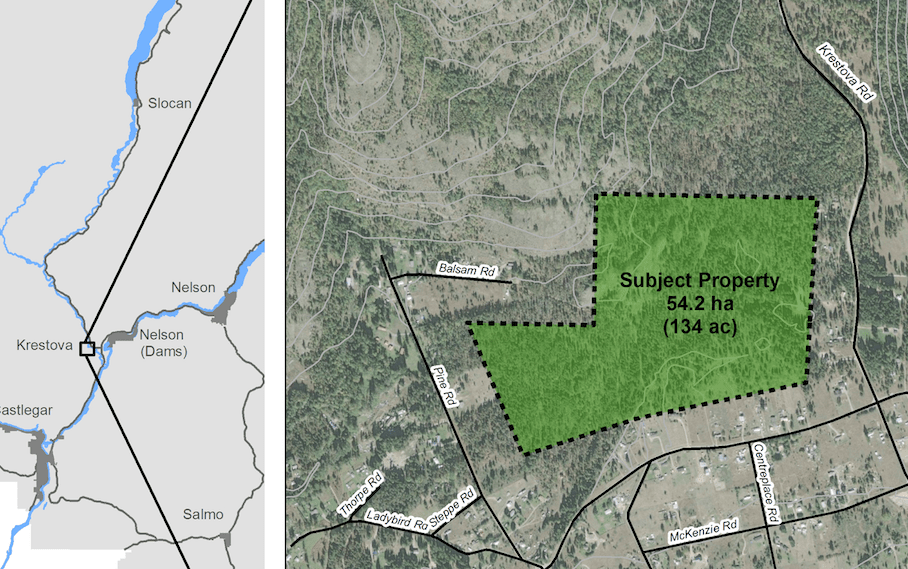 Time and money were not a problem as the Area H community managed to raise $475,000 in six weeks in order to purchase 134 acres in Krestova for a regional park.
The Regional District of Central Kootenay (RDCK) had entered into an agreement to purchase two parcels of land — as regional parkland for use by regional residents and visitors — for a price of $870,000.
A compressed time frame and a large sum to raise were daunting obstacles, but not insurmountable, said Walter Popoff, RDCK electoral Area H director.
"This has been a remarkable effort that many did not think was possible, especially in such a short period of time," he said in a press release.
During its regular monthly business meeting on Aug. 18 the RDCK board approved an Area H Community Development Grant of $250,000 be put towards the purchase.
"The property is now for sale and, as the director for the area, the community reached out and requested that the RDCK consider purchasing the property for regional park purposes," said Area H director Walter Popoff.
A further $145,000 donation has been secured for the purchase to meet the terms of the purchase agreement.
The original deadline to secure all the necessary funding was Oct. 5 but the RDCK received an extension until March 30, 2023.
The RDCK will now continue to work with the sellers and go through the purchasing process which requires the RDCK to have all funds in place to close the purchase on March 31, 2023, said RDCK general manager of Community Services, Joe Chirico.
"It is important to note that the earliest the RDCK will own the property is March 31, 2023 and until then it remains private land," he said.
"This property, although it was privately owned, has been used by the local community as an outdoor recreation area and a place for residents to enjoy the historic and cultural attributes of the property," Popoff said. 
Getting there 
Last September the RDCK board directed regional district staff to investigate the opportunity to purchase the Krestova land by looking into environmental criteria, outdoor experiences and activities, area management and management and planning criteria, as well as other historical and cultural attributes.
The local community was also invited to provide input in order to gauge levels of community interest and support next steps. More than 40 letters in support of the purchase were received.
Source: Regional District of Central Kootenay