Mallard's Team of the Week — Hume Innkeepers Men's League Champs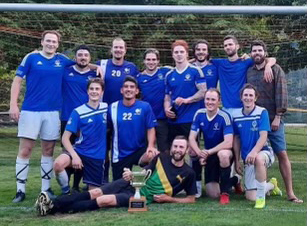 Hume Innkeepers completed a season sweep of the awards in the Mallard's Source for Sports Nelson Men's Soccer League
After winning the regular season crown, the Innkeepers captured the playoff title with a 3-1 victory over the Old Dogs Tuesday at the Lakeside Soccer Fields.
Ryan Lewis scored two goals and Josiah Mori added a single for Hume.
Clark Palfenier registered the win in goal for the Innkeepers, who won the regular season title with a 5-2-0 record.
Hume got past Nelson Selects in semi-final action while Old Dogs upset second-place Oso Negro in the other playoff contest.
Mallard's Source for sports would like to salute Hume Innkeepers as Team of the Week.
Hume Innkeepers include, Johnny Johnston, Luke Mori, Blair Day, Kevin Lewis, Ryan Lewis, Liam Burton, Joe Stimac, Andy Jupp, Jaden Dyck, Josiah Mori, Clark Palfenier, Chas Misener, Chris Parenteau, Matthew Tyler, Howie Smith, Mike Balance and Kai Simmons.