Daily Dose — Nelson's Pickleball Community Gets a Boost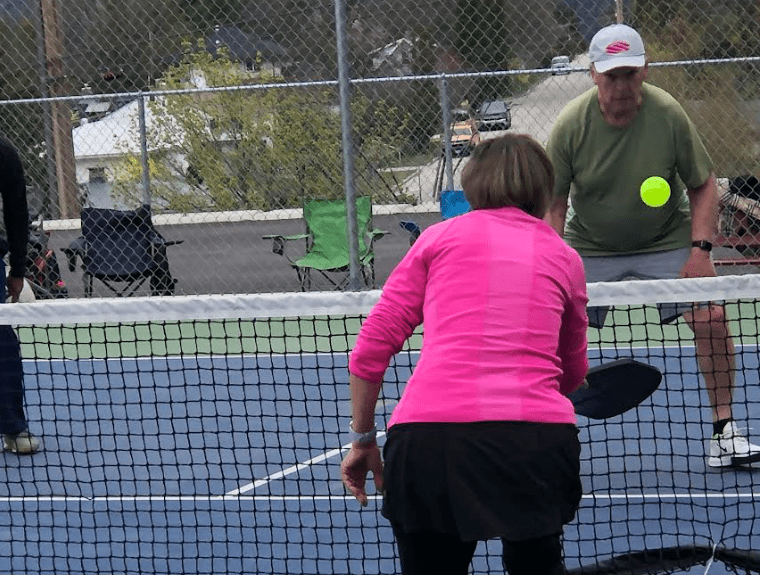 Tracy Bennet is a former professional tennis player and coach who recently moved to the Nelson area.
Now the former court star has moved her expertise into pickleball — a sport that is taking over the world
The increased interest and participation in pickleball, Bennet says, mainly because the sport is straightforward to join.
"Anybody can play at any age at any level, and can play in leagues right away," Bennet explains.
"It's hard to find somebody who hasn't heard of, or played pickleball."
And while it's a rapidly growing sport across North America, Canada is a little behind the United States, which Bennet says has clubs with as many as 50 courts. This is compared to Nelson, which has three, or a larger club like Christina Lake near Grand Forks, which has six.
The game can be played as singles or doubles, with women's, men's and mixed gender categories. Players can be nine or in their 90's; all you need is a paddle and a couple of balls. Although more often a membership to a club or a recreation centre is required.
Nelson's pickleball club is at L.V. Rogers Secondary School in Fairview and will soon have four courts.
Balfour is another club as well.
"Nelson league play is packed," so the club will be looking to get more courts into the future, Bennet projects.
But it is about so much more than the sport.
"Pickleball clubs have two values that they need to uphold," says Bennet. "They need to be excellent stewards of the community, and they need to grow and develop the sport. It's an inclusive sport."
Since buying a house in Nelson with her partner, Bennet has brought fresh energy to the pickleball club.
"In Nelson, we had our first ever team challenge where teams from Castlegar, Creston, Trail came out, and we competed against them. It was a lot of fun. It was a really good competition and very well received," she says.
Bennet and the team of volunteers at the Nelson Pickleball Club are busy planning for a six-day event that starts at the end of August.
"I'm bringing a pickleball expert to the region to help players improve, but he's also going to do an instructor certification course," Bennet explains.
"Many players don't know the sport well because the levels are very low here. I'd like to see more players learning the rules and what pickleball's all about and more referees coming out of it because you need referees at tournaments."
Part of the need locally is for higher-level coaches to emerge from the community, as Bennet is the only high-level coach in the area.
Additionally, later this summer there will be the first Pickleball Canada sanctioned event in the Kootenays. This means that players can get their ranking points. All players are rated, and then based on if they win or lose tournaments, their ranking goes up or down. If they rank higher, they can play at higher levels.
The event will also involve a Try-It event on September 1st, where community members can try the sport with rackets and courts provided.
There will also be a tournament to watch, as well as a professional exhibition match on August 31st, where people can see what pickleball looks like at the higher levels.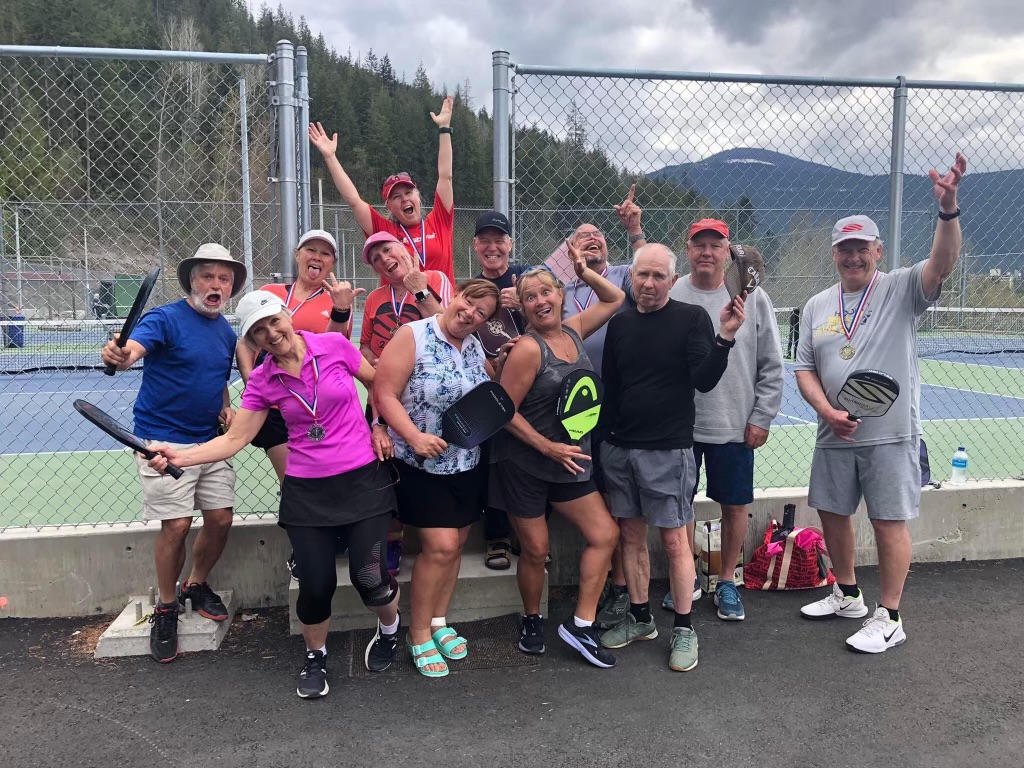 Tracy Bennet said the gang a the Nelson Pickleball Club are a lot of fun as seen by the team photo following one of the events at the courts located above L.V. Rogers High School.
Bennet is so appreciative of Nelson's pickleball community.
"The Nelson Pickleball Club is full of some of the best people I've ever met," she said.
"I've been coaching them two to four times a week for the last few months, and they have been so grateful. People are improving at pickleball, and we're all becoming friends and a great community. It's fantastic."
At the helm of the club are volunteer leaders Bennet has been working alongside.
"There are exceptional people in charge of the Nelson Pickleball Club: Doug Farquharson, Gloria Beecham, and John Ferguson. They work hard and give so much of themselves to the community. And Janet Henderson holds a free beginners course every Saturday."
Check out Bennet's Facebook group Kootenay Pickleball Classics, to learn more about pickleball events. Or visit https://www.nelsontennisclub.com/pickleball/