Trophy Town — a look at the World Champion Trail Smoke Eaters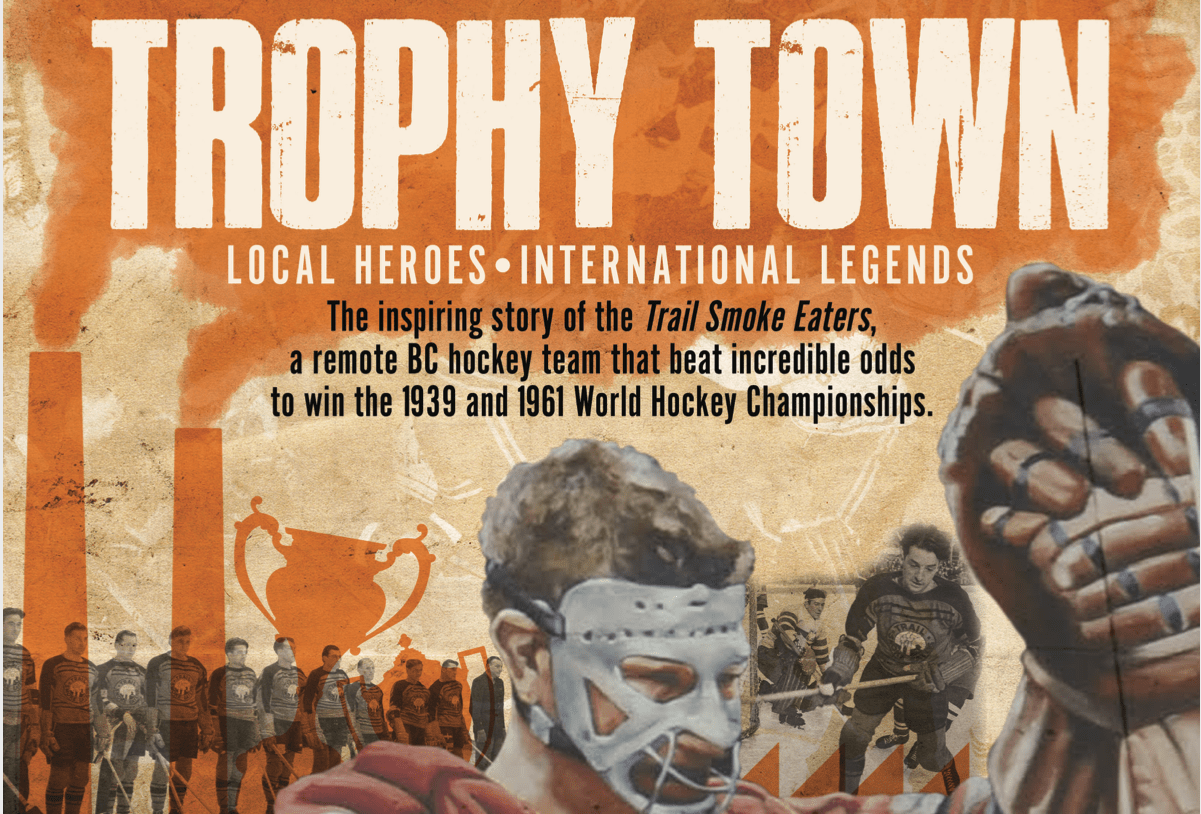 The highly anticipated documentary of Trail's 1939 and 1961 World Championship teams, Trophy Town, is coming for a viewing at the Civic Theatre in Nelson.
Trophy Town is the untold epic story of the Trail Smoke Eaters, a rag-tag team of amateurs who went on to defeat the world's most daunting adversaries on the biggest stage against the greatest odds. 
The story is set in the remote, mountainous, mining community of Trail.
The Smoke Eaters, a team in the rough and tumble Western International Hockey League, win the opportunity to play for Canada in the World Hockey Championships – not once, but twice.
And on both occasions, the team faced off with dangerous opponents, in 1938 against the Germans in Berlin before the start of the second World War, and 23 years later against the Soviet Union, during the darkest days of the Cold War, when the world was on the edge of nuclear apocalypse.
Along the way they made headlines, dazzling the Europeans with their mix of athletic prowess and swagger, winning international respect and fans by the thousands who packed rinks to behold the star power of these exotic Canadians.
Local hockey historian Bill McDonnell researched the former Nelson Daily News, finding copies of the newspaper that told the story in January 1961 of Trail's upcoming tour of Europe culminating in the World Championship.
McDonnell found that the Nelson Maple Leafs also assisted in getting the Smokies to the World Championships, assisting with the offsetting Smoke Eaters' expenses with fundraising that occured throughout the Kootenays, specifically the WIHL communities.
On January 19, 1961, Nelson and Trail played a "Farewell Game" — won. by Trail 5-3 — at which Nelson presented Trail with a donation of $573.
McDonnell said he had the pleasure of visiting with Norm Lenardon in Trail.
Lenardon, who is great in the documentary, scored the winning goal against Russia to secure the World Championship.
The Nelson Civic Theatre will show the documentary on Wednesday, December 1 at 7 p.m. and Thursday, December 2 at 4 p.m.
Ticket links below: