Remembrance Day 2021 — Small crowd gathers at Nelson Cenotaph to Remember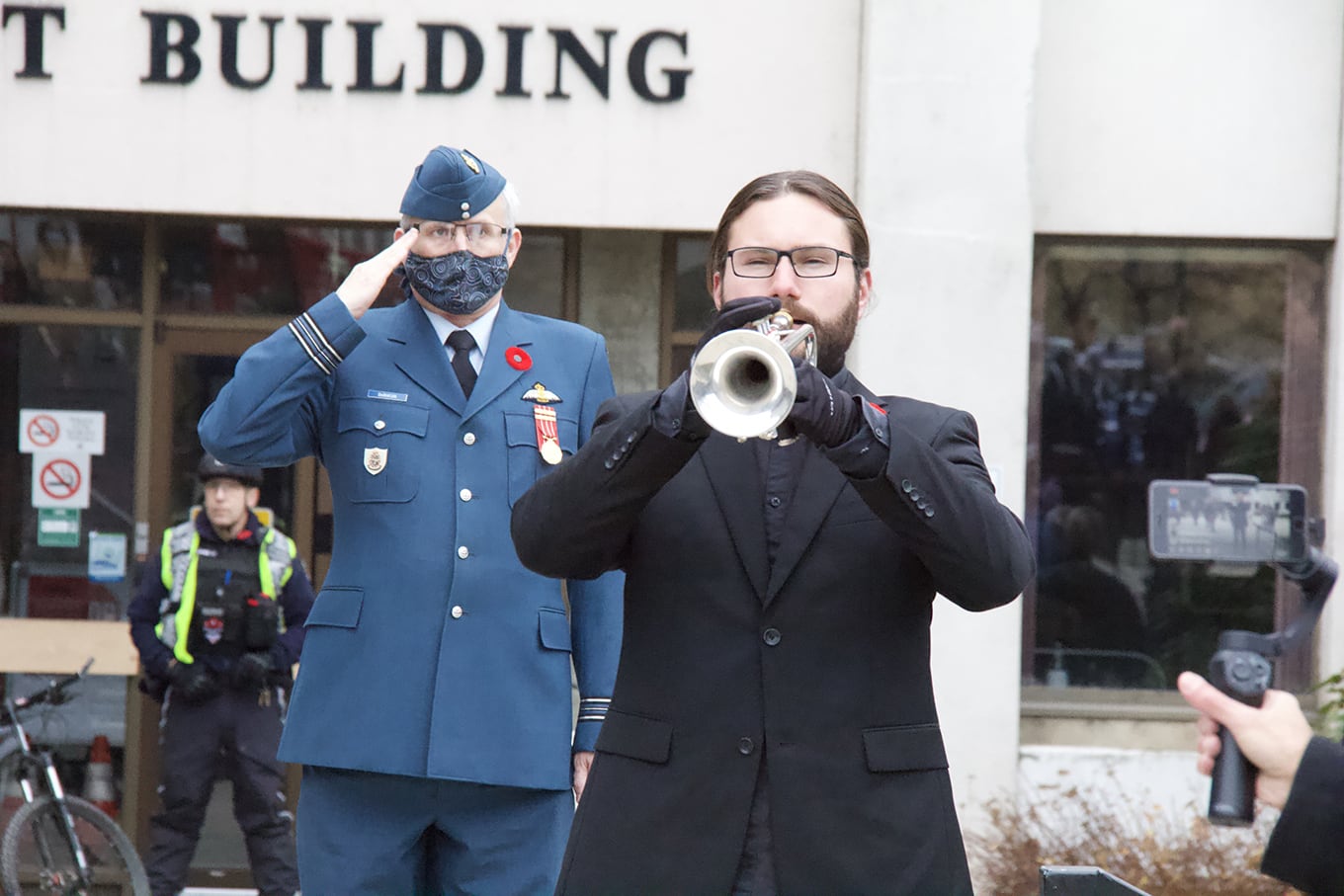 For the second consecutive year, the COVID-19 pandemic forced organizers of the Nelson Remembrance Day Ceremony to scale back the event.
However, some people — wearing masks or social distancing during Year Two of the pandemic — decided it was best to honour those who gave their lives in service to Canada in wars during the past century in person as a small crowd attended the 2021 Remembrance Day Ceremony, gathering at the Cenotaph outside City Hall Thursday morning.
Local officials, including Nelson Mayor John Dooley, Nelson-Creston MLA Brittny Anderson, dignitaries and veterans remembered Canadian soldiers who ensured freedom while helping to build this great county.
Typically, hundreds of people attend the ceremony and watch parade down Baker Street to the cenotaph.
That traditional march was again cancelled as organizers decided it was best to livestream on the the event using social media on the Nelson Legion Branch 51 Facebook page.
Emceed by Doug Wood of the Nelson Legion Branch 51, local veterans were joined by first responders, Legion members as well as the Kootenay Kiltie Pipe Band.
The ceremony started with L.V. Rogers music teacher Justin Ratzburg playing Last Post before the singing of the Canadian National Anthem.
Two minutes of silence was observed to focus on the veteran's honour guard during a flyover by the Nelson Pilots Association.
Before the ceremony started, a hug was shared with one of the few veterans attending 2021 Nelson Remembrance Day.
Nelson Legion Branch 51 President Bill Andreschuck read the Act of Remembrance before Salvation Army Branch Padre, Anthony Dasilva recited a prayer honouring veterans and a Legion member recited the war poem, In Flanders Fields.
MLA Brittny Anderson spoke of family that had served in the war effort.
Nelson Mayor Dooley spoke of the sacrifices of veterans and shared a story about a relative.
Dooley also spoke to the recent return of Canadian soldiers in Afghanistan.
The many wreaths donated every year were placed at the cenotaph prior to the ceremony.
BC Premier John Horgan said in his Remembrance Day statement that the best way we can honour their sacrifice is by doing everything we can to keep ourselves and others safe.
Nelson Mayor John Dooley spoke to the crowd about the sacrfices veterans made during the war, including Canada longest battle in Afghanistan.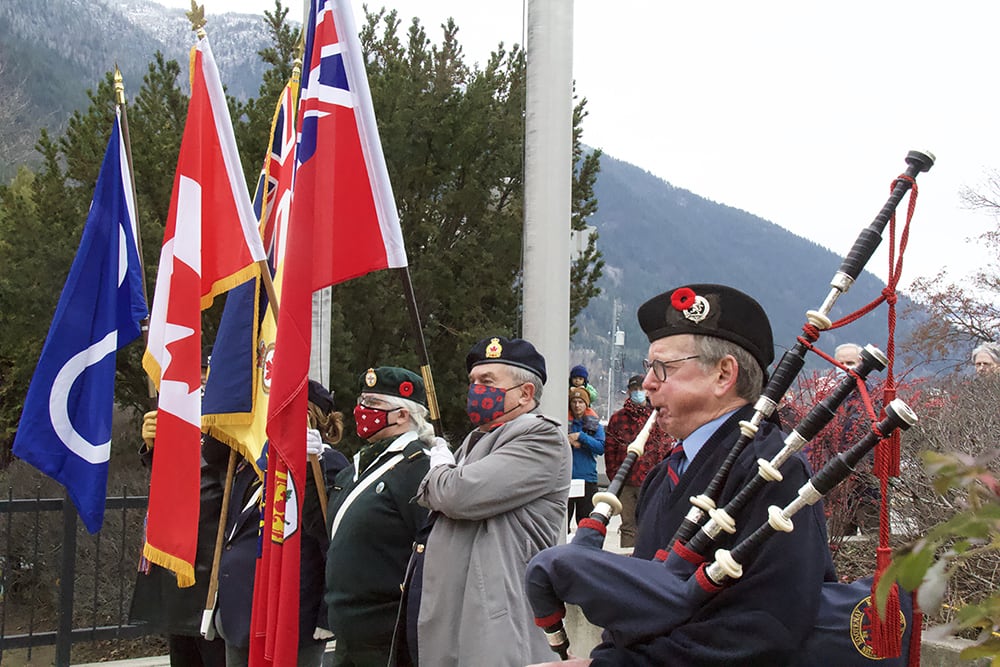 Kootenay Kiltie Pipe Major David Hogg played We Remember — Lament on the bagpipes.
A Legion member recites the war poem, In Flanders Fields, to the crowd.