Greening Up — Imagine Doing Different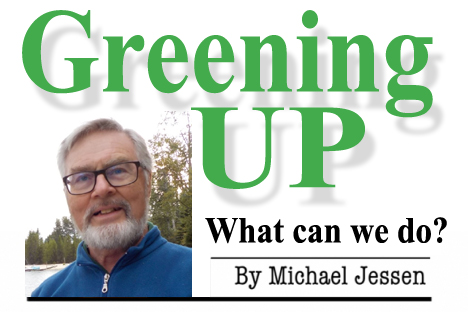 "We can envisage a world that is different but in order to bring it into being, we must take action." – Alastair McIntosh
Activism comes in all sizes, shapes, and at all ages.
Greta Thunberg was only eight when she first learned about the climate crisis.
As a 15-year-old, her concern about climate change caused her to sit in protest with a homemade school-strike sign outside the Swedish Parliament. Her effort inspired the Fridays for Future movement and now involves millions of school children.
Greta was named Time magazine's person of the year in 2019.
Wangari Maathai was a child when she had a dream about running next to a stream that no longer existed.
That dream inspired her to start a grassroots organization – the Green Belt Movement– dedicated to planting trees in order to conserve the environment and improve quality of life for African women and children.
In 2004, Wangari was awarded the Nobel Peace Prize for her contribution to environmental sustainability, democracy, and peace.
For Laurie David, her aha-moment came after the birth of her first child when she noticed a vast number of SUVs on the street while pushing a stroller through her neighbourhood.
After reading Keith Bradsher's book High and Mighty: The Dangerous Rise of the SUV,
Laurie decided it was her job to educate herself about the environment and global warming.
She went on to produce the Academy Award-winning An Inconvenient Truth (2006) and partnered with Katie Couric to executive produce Fed Up (2014), a film about the causes of obesity in the United States. She serves as a trustee on the Natural Resources Defense Council.
Heather Reisman is a later-in-life environmentalist and credits her friend Laurie David for nudging her from awareness to action. The two were both executive producers on Fed Up and The Social Dilemma, a 2020 film that explores the dangerous human impact of social networking.
Heather is CEO of Indigo, a Living With Intention Company that is committed to becoming a net zero company in as short a time as possible. Heather and journalist Shivani Persad, host the podcast 'Well Said' which invites listeners into meaningful conversations about the art and science of living well.
"In the course of history, there comes a time when humanity is called to shift to a new level of consciousness, to reach a higher moral ground.  A time when we have to shed our fear and give hope to each other. That time is now." – Wangari Maathai
Laurie and Heather collaborated on a new venture – a handbook for anyone to begin or advance a journey toward living in better balance with planet Earth – that hit bookstore shelves in April.
Imagine It! A Handbook for a Happier Planet is filled with suggestions to replace old, planet-hurting habits with new and healthy ones.  Their timing could not have been better.
The editors of more than 200 medical journals have just penned an editorial stating "a global increase of 1.5C above the pre-industrial average and the continued loss of biodiversity risk catastrophic harm to health that will be impossible to reverse."
It adds: "The greatest threat to global public health is the continued failure of world leaders to keep the global temperature rise below 1.5C and to restore nature. Urgent, society-wide changes must be made and will lead to a fairer and healthier world."
The editorial comes on the heels of a report in early August by the Intergovernmental Panel on Climate Change which unequivocally connected global warming and extreme weather to human-driven greenhouse gas emissions.
It warned of much more dramatic climate futures if we don't change course soon, a forewarning that United Nations Secretary General AntónioGuterrescalled "code red for humanity."
"The planet is outside its comfort zone and we also need to be outside of our comfort zone to prevent the worst consequences from happening." – Greta Thunberg
Heather and Laurie's book can both help you make your personal contribution to reversing global warming and enhance your personal health and well-being.
The book focuses on seven lifestyle shifts that can significantly reduce one's carbon footprint. Each chapter begins with some facts and a story to put that footprint into context. Steps to build awareness and actions for the reader to take follow.
To assist beginner environmentalists, Laurie and Heather have included a glossary explaining terms and acronyms that a reader may not be familiar with. There is an excellent list of environmental groups with contact information as well as books for further reading and suggested websites for additional research. 
"Do the best you can until you know better. Then when you know better, do better. – Maya Angelou
Lifestyle shift one is about developing an "allergy" to plastic because as the authors point out we produce more than 380 million tons of plastic worldwide every year, much of which ends up in landfills or the ocean endangering wildlife and fish.
The authors explain that plastic in the ocean often breaks down into tiny bits called microplastics which when ingested by fish are swallowed by us when we eat tuna, salmon, or other fish.
This distressing fact was enough to make me sit up and take notice: we ingest about 2,000 microplastic particles a week– the equivalent weight of a credit card of plastic every seven days.
Another shocking fact is the impact of balloons, especially any filled with helium – it is estimated that over 100,000 marine mammals die each year from balloon entanglement or ingestion.
"Real change, enduring change, happens one step at a time." – Ruth Bader Ginsburg
Next the authors tackle our food footprint which it may surprise you to know is responsible for one-quarter of the world's greenhouse gas emissions.
Their chart of the 10 common climate-damaging foods is revealing of how much our diet is demanding on the planet. From worst to better they are: beef, lamb, butter, shellfish, cheese, asparagus, pork, veal, chicken, and turkey.
What we choose for our meals has a direct impact on water use: food is the largest consumer of freshwater – 70 percent of all the withdrawals of freshwater from rivers, lakes and groundwater is used to produce food.
It takes 1,799 gallons of water to produce a single pound of beef, 519 gallons for a pound of chicken, but only 39 gallons to produce the same amount of vegetables.
The authors write that meat production has more than quadrupled over the past 50 years. The world now produces more than 320 million tons of meat every year to meet demand. 
If you really want meat, Laurie and Heather urge you to buy organic, antibiotic-free meat.
Food waste is another problem we need to tackle – it is estimated we waste 30 percent of the food produced every year. This accounts for about 6 percent of all global greenhouse gases.
"We can't just continue living as if there was no tomorrow, because there is a tomorrow." – Greta Thunberg
Producing beef utilizes a lot of water, but so does producing clothing – a whopping 1.5 trillion litres every year, making the apparel industry the second-largest consumer of the world's water supply.
It takes 2,700 litres of water to make one cotton shirt – the equivalent of what one person drinks in two and a half years.
In addition, the apparel industry accounts for 10 percent of the world's carbon emissions.
When it comes to our clothing purchases (80 billion new items every year), it appears we don't keep them very long as North Americans discard about 14 million tons of clothing and shoes every year.
Check out https://www.sustainyourstyle.org/  and https://www.fashionrevolution.org/  to learn more about the impact of fashion on our planet.
"The most important thing you can do to fight climate change: talk about it." – Katharine Hayhoe
The fourth shift Laurie and Heather write about involves the more than 80,000 different chemicals found in products we eat or use every day. The problem – only a few hundred have been tested for safety
The most troublesome chemicals are found in personal care and makeup products, sunscreens, deodorants, perfumes, and candles.
It is important that we're conscious of three major categories of chemicals found in some of our foods – pesticides, synthetic fertilizers, phthalates and PFAS (per- and polyfluoroalkyl substances).   
"Passion begins with a burden and a split-second moment when you understand something like never before. That burden is on those who know. Those who don't know are at peace. Those of us who do know get disturbed and are forced to take action." – Wangari Maathai 
Reducing our use of paper is the fifth shift that the authors recommend since it accounts for one-third of all waste in Canada and only about 60 percent of that is recycled.
Laurie and Heather also urge us to connect paper with trees – 3 billion trees are logged for packaging alone every year.
 The sixth shift involves water and we are encouraged to become water stewards and take actions that make us more respectful of this invaluable resource. The authors point out that global water demand has increased by over 600 percent in the last 100 years.
"When it comes to energy, we need to electrify everything. This means replacing gas-fired heating systems with an electric heat pump in your home and swapping out gas-fired stoves." – Holly Jean Buck
Transportation – at almost 30 percent – is one of the biggest contributors to greenhouse gases in Canada. It is the seventh shift that Laurie and Heather suggest.
One gas-powered car emits, on average, five tons of carbon dioxide per year – equivalent to burning 5,500 pounds of coal.
 Going electric, being more intentional about our travel, flying only when necessary, buying less from faraway places, and advocating for transportation industry environmental legislation are some of Laurie and Heather's recommended actions.
 "Unless someone like you cares a whole awful lot, nothing is going to get better. It's not." – Dr. Seuss
With awareness comes responsibility. Our response to the COVID-19 pandemic has proven we can make big changes together to our lifestyles.
The climate change alarm bells are ringing and we need to hear them – and act. This is the time for everyone to engage in helping to shape what future they want – and that includes telling politicians to enact climate friendly policies.
May the examples of courage shown to us by Greta, Wangari, Laurie and Heather give us the heart to act outside our comfort zone.
We may not be named person-of-the-year or win a Nobel Prize, but we will learn what makes life worthwhile, experience a new way of being with the Earth, and help heal the only habitable planet we have – together. 
"Never doubt that a small group of thoughtful, committed citizens can change the world; indeed, it's the only thing that ever has." – Margaret Mead
Michael Jessen was born when the carbon dioxide level in the atmosphere was 310.3 parts per million. The CO2 level reached 413.57 ppm while he was writing this article. Michael has been writing about climate change for TheNelsonDaily.com since 2012 and can be reached by email at zerowaste@shaw.ca
RESOURCES: The following books offer a variety of solutions to the climate crisis.
Imagine It! A Handbook For a Happier Planet by Laurie David and Heather Reisman, Indigo Press, 2021.
Stop Global Warming: The Solution Is You! An Activist's Guide by Laurie David, Fulcrum Publishing, 2006.
Hope Matters: Why Changing the Way We Think Is Critical to Solving the Environmental Crisis by Elin Kelsey, Greystone Books, 2020.
The Future Earth: A Radical Vision For What's Possible In the Age of Warming by Eric Holthaus, HarperCollins Publishers, 2020.
A Life on Our Planet: My Witness Statement and A Vision For the Future by David Attenborough, Grand Central Publishing, 2020.
Hope In Hell: A Decade to Confront the Climate Emergency by Jonathon Porritt, Simon & Schuster, 2020.
Breaking Boundaries: The Science of Our Planet by Johan Rockström and Owen Gaffney, Dorling Kindersley Limited, 2021.
The New Climate War: The Fight to Take Back Our Planet by Michael E. Mann, Hachette Book Group, 2021.