Extinction Rebellion West Kootenay Youth leaders protest old growth logging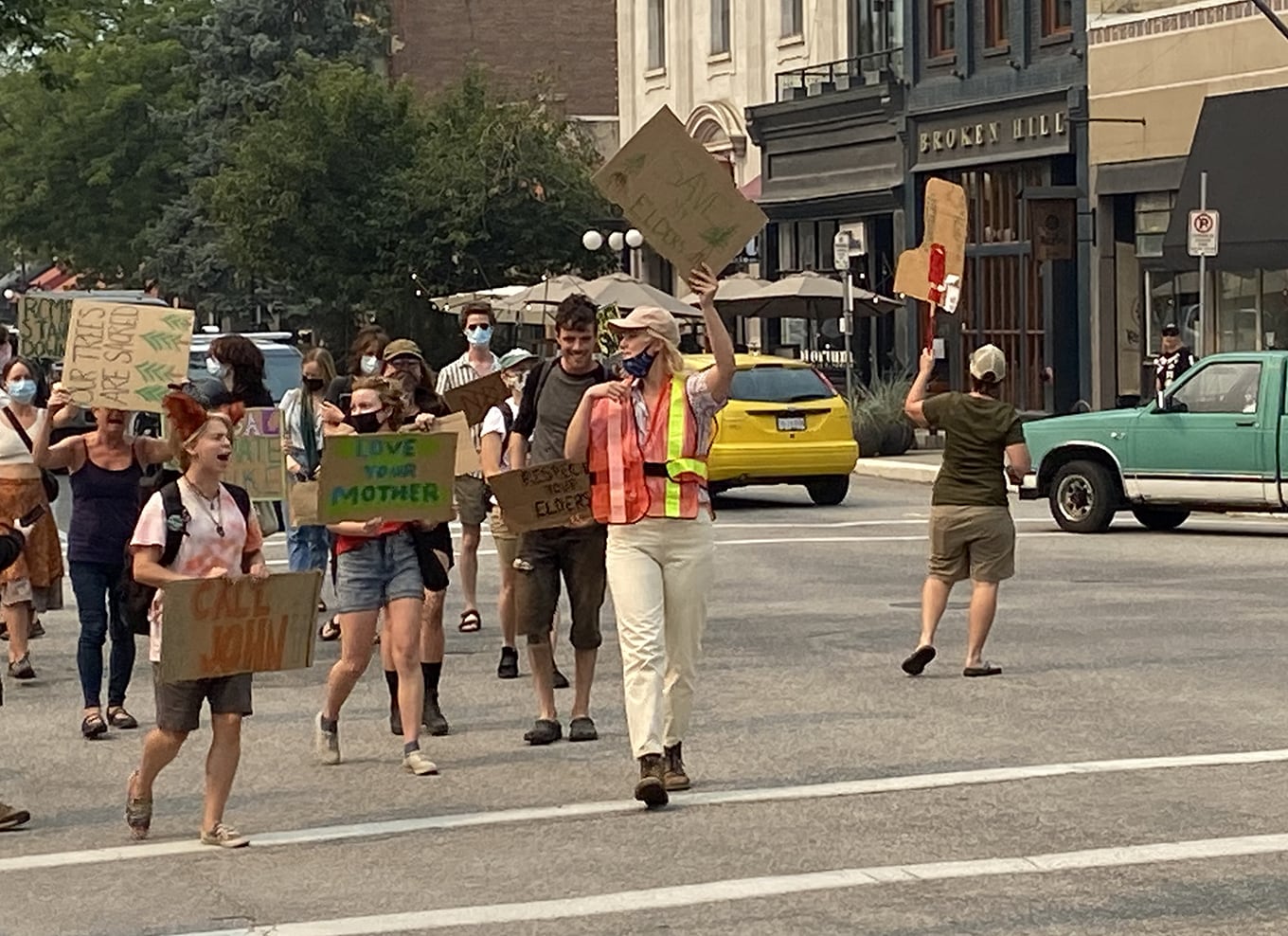 Extinction Rebellion West Kootenay once again expressed its concerns over old growth logging, targeting the office of Nelson-Creston MLA Brittny Anderson.
Saturday a collection of Kootenay residents fed up with the NDP's "talk and log" policy congregated in front of MLA Anderson's office.
The group, which has also protested at the office in Castlegar of Katrine Conroy, Minister of Forests, Lands, Natural Resoures Operation and Rural Development, expressed powerful sentiments, as many protesters have been demanding the same changes for months, some years, some decades.
Many people had been to the Fairy Creek blockades, including the Extinction Rebellion youth organizers who were arrested there. Many "lifelong New Democrat supporters" voiced that they will no longer be voting for the party due to their lies and inaction when it comes to the intensely destructive industry of old growth logging.
 "Once again we are at MLA Anderson's office because we are not satisfied with automated NDP script responses," said Marina, 21, of Extinction Rebellion.
"We want public statements supporting a provincial moratorium of all old growth logging. We want mills repurposed for second growth timber, and raw logs to no longer be sent out of the province. We want concrete change. The elusive promise of more deferrals will not satisfy while we are choking on smoke, dying from heat, and losing our homes to fires. Old growth forests are essential in combating the climate crisis that is literally killing us. We will not leave the streets until the remaining 2.7% are protected."
After sharing stories and messages, the group marched down Baker Street behind a Nelson Police cruiser, momentarily impeding traffic on the street and the crossing through intersections.
On the way back they engaged in a die-in, using their bodies to physically represent the elder trees cut to the ground. The protesters lay down on the street, shutting down the intersection of Ward and Baker, before rising and marching back to MLA Anderson's office.
"MLA Anderson has made a point of being vocal about listening to her constituents, unlike Forest Minister Conroy," said Miguel, 16, arrested while protesting at the Fairy Creek Blockade on Vancouver Island last month.
"Unfortunately, while she tells us the NDP script that 'more deferrals are coming later in the summer' people are dying from the climate crisis, old growth forests are being cut at catastrophic rates, and the RCMP are brutalizing indigenous land defenders at Fairy Creek.
Miguel said the time for closed door discussions took place before I was born.
Now is the time for an immediate moratorium and to leave the NDP.
"As a youth facing a future of larger fires than ever before, heavy smoke, and catastrophic weather events, standing up for these forests is a social obligation," said Miguel.
This protest took place two days after a smaller group of XR youth engaged in civil disobedience in the form of leaving green handprints on MLA Anderson's office.
At that action police were called by office workers.