Daily Dose — John McKinnon's 50 years of artistic creation
John McKinnon's retrospective show, Time Warp, at Touchstones Nelson, recently closed.
But since the show has received much applause, it is being extended.
McKinnon has been building sculptures and leading in the Kootenay art community since the 1970s. His sculptures are part of the City of Nelson's public art collection, and his work is displayed in cities across Canada and internationally.
McKinnon is a sculptor but also an instructor, printmaker, and builder.
The collection of works for the exhibition are primarily from McKinnon's collection. However, he borrowed some sculptures from others that represent essential points in his process.
"It's interesting to stand there and look back on it; there's all the different series of work, a lot of different media, different imagery," McKinnon explaines.
"It's nice to see the collection of it together. There are close to 50 pieces of sculpture in the show and 28 prints and assorted drawings. It's been interesting for me, putting it all together."
Born and raised in Nelson, McKinnon's art has taken him all over, including Vancouver, Calgary, the arctic, and Europe. Nelson was always his home base and he raised his four kids here, all of whom live within a half-mile of him. None of his kids followed in his artist's footsteps.
"I'm the black sheep of the family when it comes to that," McKinnon laughs.
McKinnon's creative journey began at 21 years when he began his formal art education.
"I thought at that time that I would like to spend my life and make my living making art. I remember quite clearly the first time I walked into the sculpture studio at Kootenay School of the Arts and looked around at all of the moulds, half-finished sculptures and tools. At that moment, I felt that this is where I wanted to be," McKinnon says.
Some of his first pieces made it into the show.
"I've managed to keep a lot of the pieces over the years that date right back to my first year of art school."
A year into art school studies, John was married and had his first daughter. Even though he was strapped for cash, he stuck to his vision.
"As with any journey, one keeps moving forward step by step. And so, I did," McKinnon reflects.
Putting the retrospective together was no small task, especially considering the fluctuating Covid situation that complicated planning. It was necessary to build crates to hold the sculptures, and a hired photographer took pictures of his work. A grant from Columbia Kootenay Cultural Alliance was helpful.
McKinnon writes in his artist statement, that in assembling pieces for this exhibition, he was confronted with the question of how to represent the last 50 years.
"Advisors would suggest that I should be more consistent, stay with a more predictable style or medium," he said.
"There is logic in this, and I won't deny it, as it is a much better 'marketing strategy.' But I am who I am and in my world. The creation of art is inclined more toward spontaneity. There is no beginning, and there is no end. It just is."
McKinnon's latest sculptures in marble originate from a series of experimental bronze figures built from clay from a model and cast in bronze in the early 1980s. He explains his thinking behind his reworking of these pieces.
"The sculptures themselves are no longer a collection of the various poses of the model but have evolved somewhat and taken on a unique stature. They now only 'rhyme' with the original ideas. Each piece now has a story of its own."
A "closing party" and publication launch was held August 6th at Touchstones, but the show will go on. McKinnon is proud of the catalogue made, documenting all the pieces in the retrospective and explaining the last 50 years of his creative output.
Although this is a lifetime show, it is by no means the end of McKinnon's artistic journey.
"I'm commissioned for a sculpture down in Surrey, trying to get that together right now. That's going to take a while. It will keep me busy for the next year. It's three stone pieces."
It's meant a lot to John to share his life's work with the community he calls home. As someone who has always been curious about the concept of "metamorphic change," looking back on his work is an interesting process.
"It's been a good go," says McKinnon.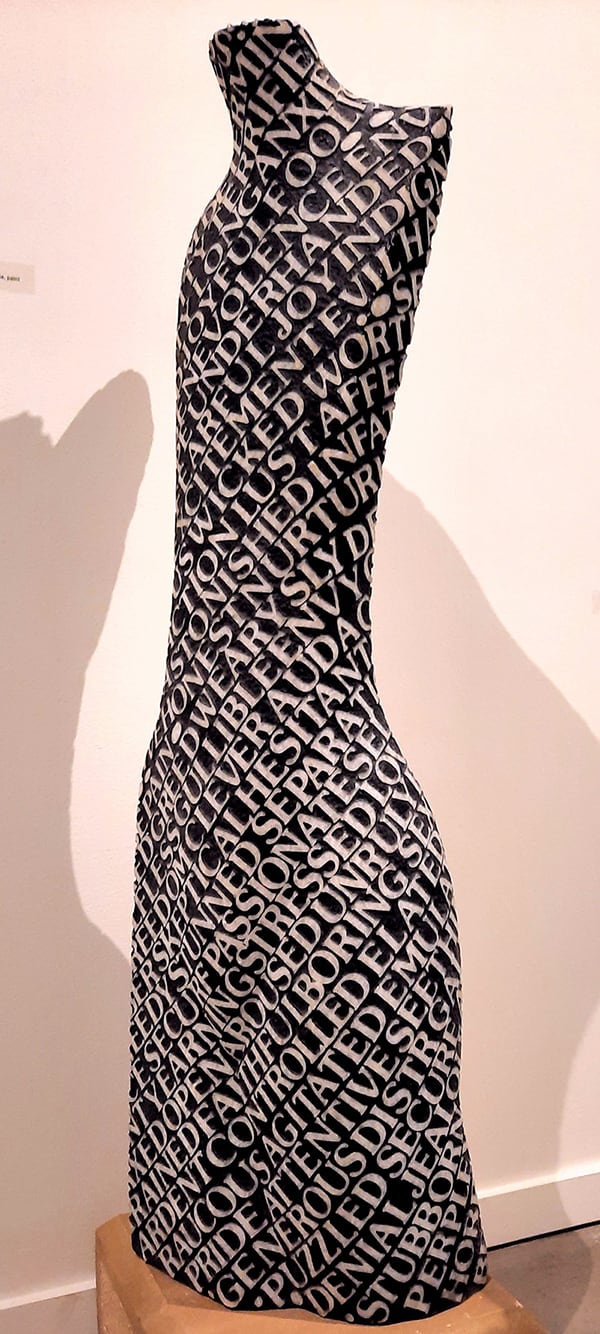 One of John McKinnon's many works of art is engraved, painted marble . . . titled, Who We Are.