SD8 celebrates the 2020-2021 graduating class' achievements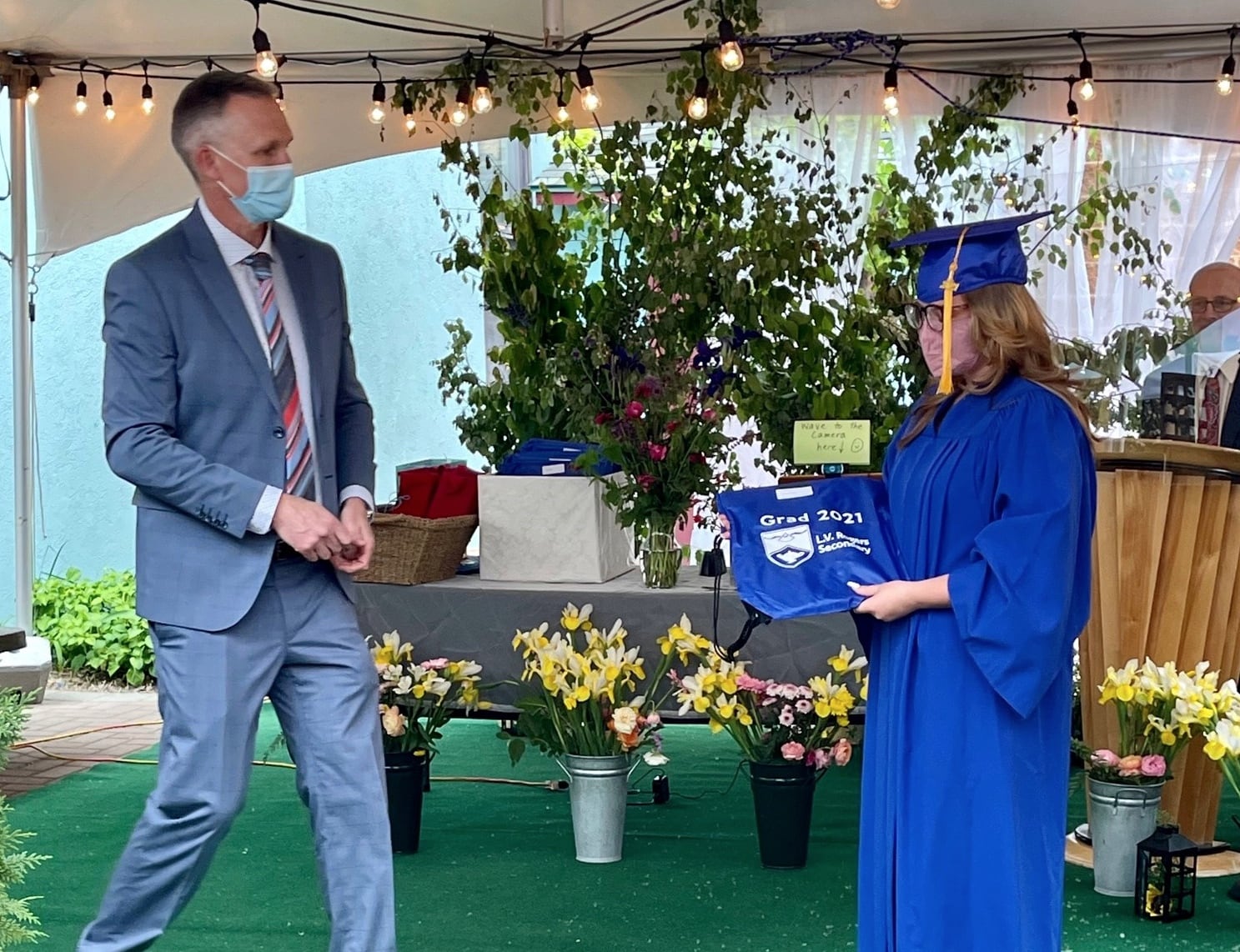 As this anything-but-normal school year winds to an end, SD8 Kootenay Lake District staff and administrators are marveling at the fortitude and resiliency of this year's graduates.
Students in all schools faced unprecedented challenges throughout the year, having to learn new ways of learning and make sacrifices to attend school in person.
For the Grade 12 students, the uncertainty of what their final year of secondary school would look like brought additional challenges.
Despite all the unknowns, this year's graduates excelled and the 2020- 2021 school year will mark a record for the highest number of applicants for the District Dogwood Authority Scholarship.
Of the near 100 applicants, 48 District Dogwood Authority Scholarships were awarded, along with other district scholarships for a total of $66,424 for 67 district-administered awards.
This amount, adding up to nearly $10,000 more than last year.
In addition, 10 Aboriginal Education Awards for a total of $10,000, 6 International Awards totaling $2500, and four Kootenay Area Skilled Trades Awards amounting to $3500 were issued to well deserving students across the district.
Congratulations go out to all the scholarship recipients for their hard work, and of special note to LVR student Avie Waterfall for receiving the Horatio Algiers Scholarship, and to Loran Scholar Tala MacDonald from Mt. Sentinel Secondary.
"The goals for our district scholarship program is to ensure equitable distribution and inclusivity, for both rural and students of diverse abilities and backgrounds" said Tamara Malloff, District Principal for SD8's Innovative Learning Services. Highlights from this year's scholarship awards included student virtual District Dogwood presentations in areas of Trades, Fine Arts, Community services and more.
Communication is another area of focus for the district, working to engage with students and parents to promote the scholarship process, availability and share resources.
"We are excited to announce that a District-wide scholarship database is in the works for next year," said Malloff.
The web-based tool will be searchable by various criteria and will dramatically improve the application process for students determining their eligibility.
Next year's goal is to further develop a procurement strategy and Scholarship Equity Framework through a District Scholarship Committee. This group will be reaching out into the community for potential donors that may wish to create a scholarship or bursary in their name or for a specific purpose.
Potential donors are also invited to contact SD8 Innovative Learning Services to discuss their interest.
The Kootenay Trades Skills Award is an example of just this, where a generous donor saw the need for more young skilled tradespeople in the community which instigated a new bursary intended for graduating students that are entering a traditional skilled trades program after high school.
The District would also like to congratulate LVR student Nieva Cunningham who is the recipient of the Dr. Christine Perkins Human Rights Award, and to Dara-Lyne Lapointe, from Creston Valley Secondary School for the Dr. Christine and Michael Perkins Fine Arts Award.