Extreme weather events already impact Nelson Hydro budget: utility manager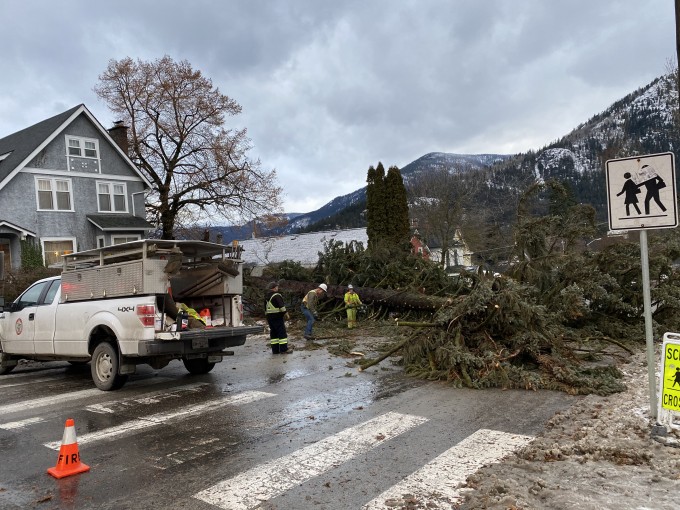 A series of extreme weather events this year has already impacted one city department's budget by almost $900,000, prompting the city's utility to request a dip into capital reserves.
Two notable events have already cost Nelson Hydro this year, with a major wind storm event on Jan. 13, along with a higher demand charge due to a cold snap the week of Feb. 8.
Those weather events significantly impacted Hydro operations expenses for a total impact of $875,500.
Recently, the city's utility requested an adjustment to its 2021 budget — an increase to the major storm budget of $290,000 and the power purchase – demand charges budget by $585,500 — through a reduction in the capital reserve.
Both weather events have created unexpected and unbudgeted costs for the fiscal year 2021 for Nelson Hydro, said its general manager Scott Spencer.
"We are looking at all of the options but feel that the only real action we can take at this time is to request an increase to the budget from council," he said.
"We looked at what we were spending in 2021 knowing we had significant rate increases proposed, so there was no low hanging fruit that we could use to make up for an over $800,000 shortfall."
The $875,500 request to the budget accounts for costs associated with extreme weather events so far this year, but will not affect 2021 rates. The increase will reduce the projected capital reserve to just over $7 million, "still within the target range of a healthy balance," Spencer pointed out.
The request raised alarm bells on council.
"I worry about using the reserves as a back stop," said Coun. Janice Morrison.
"We are seeing a lot of building here and so we are going to see more 'electrification' and this is a climate change issue, it's not about just getting hotter, it's about it getting crazier so the extreme weather events will be more common."
The request was made in an effort to give council an update and background information as to why the increase was warranted, said city chief financial officer Colin McClure, so it will be informed when it goes to vote on the budget.
"Those numbers were just different than the ones we proposed back in November, December," he said. "They would just be adjusted when we bring the financial plan forward."
Following the Jan. 13 storm, Nelson Hydro recognized that all spending for the rest of the year would need to be carefully monitored, said Spencer.
The staff at Nelson Hydro tried to find areas that could be reduced in the budget, along with a "concerted" effort to budget only what was necessary for 2021 to keep the general rate increase to a minimum.
"At this point in the year, it is still too early know if any of the currently budgeted activities planned for 2021 will come in under budget," Spencer said.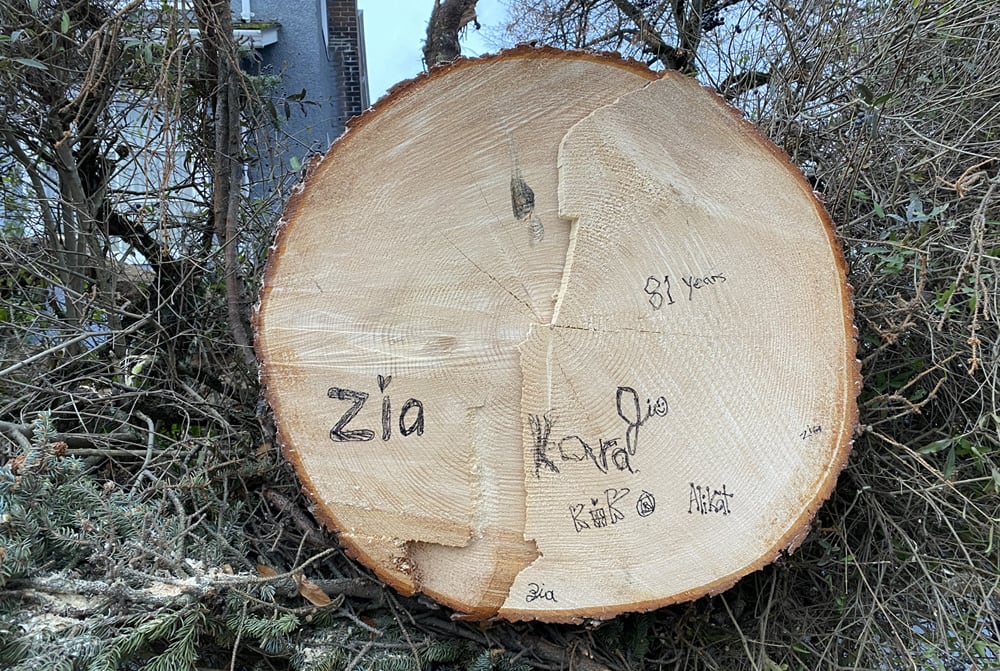 The January 13 windstorm in Nelson took down this 81-year-old tree on Stanley Street.
Major storm budget
There was an initial budget of $109,800 set for 2021 to "respond to outages and asset damage caused by significant storm events."
That figure reflected the previous five-year average of $104,987 and included a significant event on Sept. 7, 2020 that cost over $150,000 on its own.
"The budgeted amount seemed reasonable given the history," said Spencer.
However, on Jan. 13, a wind storm — second only to the storm in the summer of 2015 for damage to Nelson Hydro infrastructure — hit the city, knocking out the power to 4,000 customers in very cold weather.
It took four days for Nelson Hydro line crews — alongside contractors and crews from Penticton and Summerland — to restore power.
"It took a month following the incident to complete the repairs to the system from the storm related damage," said Spencer.
The material, labour and equipment costs have now been calculated and added to the invoiced amounts from the contractors and the total is $403,184. An additional $290,000 is required to bring this budget close to the actual costs already incurred in 2021.
Source: City of Nelson
Demand charges
Under the terms of the water licence the city possesses Nelson Hydro is able to generate a maximum of 9.1MVA of power during the winter months.
That means the city needs to buy power — from Fortis BC to cover the additional capacity — to meet its peak system demand.
Although Nelson Hydro receives a favourable rate under the terms of the Fortis BC wholesale service – transmission tariff, the demand charges are still significant, Spencer explained.
The demand rate is set at 75 per cent of the peak load and, once set, is in effect for 12 months or until a higher peak is set. In January 2021 the peak demand was 23,679 kVA. Throughout the week of Feb. 8 new peaks were set with the highest at 28,658 kVA occurring at 8 am on Friday, Feb. 12 .
"The additional 5,000 KVA will result in an increase in our demand charge of approximately $58,550 per month for the next 12 months. With 10 months left in 2021 that translates to $585,500 in unbudgeted power purchase costs with no offsetting revenue," said Spencer.
Nelson Hydro is working with Fortis BC to investigate options for peak shaving that would mitigate this type of impact from deep cold weather events in the future. One of the opportunities being considered is to incorporate peak shaving into the Power Plant Back-up Generator project planned for 2021. This would require a significant scope change as the capacity required for back-up would not have had a significant impact on reducing the peak experienced on February 12th, 2021. Higher capacity and energy storage options are being investigated.
Source: Nelson Hydro