Rural rate increase for Nelson Hydro customers not 'compounded' to 28 per cent: city CFO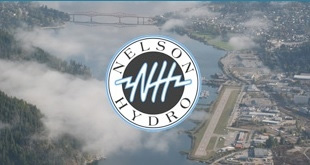 A compounded rural rate for Nelson Hydro rural customers is not an accurate indication of the cost of the proposed increase, says the city's chief financial officer.
Colin McClure said estimates for the rural Nelson Hydro cost of service (COSA) and rate design application (RDA) — submitted separately to the BC Utilities Commission (BCUC) from the general rural rate increase — were just that, estimates.
COSA and RDA propose an 18 per cent increase over almost four years for rural Nelson Hydro customers to account for rising costs and the delivery of service to rural areas, he said, but it will not compound over the time span to 28 per cent, as some people have suggested.
As well, the rate approved for city residents April 1 of 3.32 per cent — and 2.5 per cent for 2022 and 2023 — will not compound to just over eight per cent in three years, McClure said.
A compounding effect is dependent on consumption, McClure explained, so it isn't a valid calculation. He also added that Nelson Hydro had a zero per cent rate increase in 2020 (versus Fortis BC at a one per cent increase), which should be considered in any averages or comparisons. 
"Nelson Hydro recognizes that the rate increases proposed in the applications before the BCUC represent a potential hardship to its customers which is why it has endeavoured to mitigate the impact by spreading the increases out over almost four years," said McClure.
"(E)ven after the proposed rate increases, rural customers will still be paying less than their neighbours in the region supplied by Fortis BC."
The city included the 3.32 per cent rate increase forecast in its 2021 general rate application — and a similar one for 2022 and 2023 — to the BCUC, based on the 3.5 per cent annual rate increase forecast by Fortis BC for the same years in their latest rate application.  
"Any ruling from the BCUC will be taken into consideration during future budget processes that determine if general rate increases are required in 2022 and 2023," said McClure. "The estimates should not be included in any 'rate calculation.'" 
Pending approval
The BCUC must first approve a requested rate change before it can be implemented and formalized by adopting a bylaw amendment. Nelson Hydro had requested approval of a 2.3 per cent increase for rural customers in the interim until the BCUC decision is delivered.
As expected, a sizable contingent of people speaking and writing letters in against the increase has occurred, with nearly 70 letters of comment having been filed in the proceeding, largely in opposition of the rate increase.
Such a response from the rural ratepayers was not surprising noted Nelson Hydro general manager Scott Spencer.
"Rural rates at this time are not adequate to fund their share of the revenue requirement for the utility and this matter is being addressed through the COSA and RD application," he said in his update report to council on the rate increases.
Reducing the cost
With the increases rolled out over the next few years the time will allow for customers to take advantage of retrofit and energy efficiency rebate programs that will help reduce energy consumption by up to 30 per cent, McClure explained.
The city operates the EcoSave program (nelson.ca/ecosave) that has supported hundreds of customers to reduce their energy bills and impact on the environment.